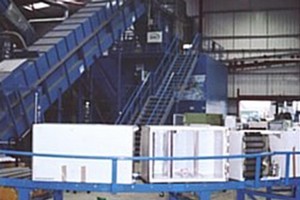 A New Zealand man who died in an industrial accident in London eight years ago never got to experience the joy of fatherhood, the officer involved in investigating his disappearance says.
An inquest into Lee Sheppard's death found he died from asphyxiation while working at the European Metal Recycling (EMR) plant in Harlesden, North London.
The inquest was told that Sheppard, from Paparoa in Northland, may have been pulverised after climbing into a chamber filled with nitrogen in a crushing machine at the fridge recycling plant.
Detective Sergeant Andy Goodwin, who was involved in the investigation into the case, said even though Sheppard had disappeared without a trace, the case was never closed.
In 2008 new information emerged and the inquiry that followed was "complex and demanding".
Numerous witnesses were located overseas and re interviewed and specialist experts were consulted, he said.
"Throughout my involvement in this case, I have been humbled by the Sheppard family - Juliet, Lee's wife, Ken and Rose his parents, and his four brothers.
"Their desire for an answer to Lee's disappearance has motivated me in particular over the past two years."
When Sheppard disappeared, his wife had just discovered she was pregnant and subsequently had a son called Jaden.
"Lee will never experience the joy of fatherhood that filled him with such happiness in those brief days since he had discovered that Juliet was expecting their first child. Jaden will never know his father," Goodwin said.
"I hope that the conclusion of this inquest allows the family some closure and to move on and begin to remember their much loved husband, son, and brother."
Sheppard's wife told NZPA the family was "very pleased" with the inquest's verdict.
"We're still numb after having heard the verdict -- we've only just found out. We're very pleased and believe the right verdict was reached."
She said she would be "talking with lawyers" when asked about the possibility of a civil action against EMR.
"It hasn't quite sunk in yet because it has been eight years but this has definitely brought closure."
Sheppard disappeared after starting a nightshift on January 30, 2003. In 2008, police reopened the case, with Goodwin taking the unusual step of allowing Auckland-based private investigator Ron McQuilter to work with him for a month to re-examine evidence.
This led to the theory that Sheppard died inside machinery at the recycling plant.
- NZPA