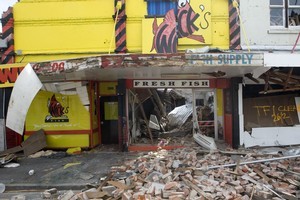 The death toll from the Christchurch earthquake is likely to be about 240, police say.
At a joint media conference this morning, Superintendent Dave Cliff said the death toll remained at 154, after more bodies were found overnight. Three of the recovered bodies had been found in the PGC building.
But Mr Cliff said the number of dead was expected to rise. He said a figure of around 240 was "solidifying" but could still change.
Police would officially release the names of at least three more victims later today, he said.
Mr Cliff warned that it was not going to be possible in all cases for the bodies of dead - some of which had received horrific injuries - to be returned to families.
Identifying victims was "really emotionally charged and draining work", he said, and the process took time.
But Mr Cliff reiterated that the process was "absolutely robust" and was the same as used overseas.
If the death toll did reach 240, the Christchurch earthquake would be New Zealand's third worst death toll from a disaster.
The 1979 Mt Erebus air crashed left 257 dead on November 28, 1979, while the 1931 Napier earthquake killed 256 and levelled much of the city's centre.
Russell Wood from the Fire Service told the conference he had toured the Pyne Gould Corporation building last night and that Urban Search and Rescue (Usar) workers at the site believed they would find more victims.
In a statement, police said there would be a controlled felling at the top of the building due to safety concerns about its stability.
Mr Wood said 30 cubic metres of concrete had been pumped into the base of the Hotel Grand Chancellor building yesterday to stabilise it so that Usar workers could enter it.
A key wall in the Christchurch Cathedral, where up to 22 bodies still lay, would be shored up today to allow better access for the Usar teams, he said.
Mr Wood said recovery efforts at the CTV building remained a daylight operation only.
Water supply
Steve Brazier, acting national co-ordinator for the Civil Defence operation told media 66 per cent of the city had water.
He said there were 67 tankers in areas which did not have water and desalination plants were being organised, but he said it would be "some weeks" before water was fully restored to the city.
About 500 people were in the city working on repairing water infrastructure today, he said.
"There are many breaks but there are many people who are really dedicated to getting these things fixed."
Mr Brazier said without water, there was no sewerage and the aim was to get one chemical toilet into every house without a toilet after the earthquake.
In the meantime, Mr Brazier suggested residents without toilets use plastic bags in their existing toilets.
Civil Defence said all water in Christchurch would be chlorinated today in an effort to combat contamination from broken sewers and waste water pipes.
The treatment is likely to continue for months while the city's infrastructure is restored, it said in a statement.
"Chlorine is a highly efficient disinfectant, and adding to public water supplies helps to kill disease-causing bacteria that may exist in the water or in transport pipes."
The chlorination is expected to be an issue for people receiving dialysis treatment. A free-phone dialysis helpline has been set up at 0800 881919.
Two minutes' silence
Prime Minister John Key has asked all New Zealanders to observe two minutes' silence today, in honour of the victims of last week's magnitude 6.3 earthquake.
The tribute will begin at 12.51pm today - exactly one week since the quake hit.
Mayor Parker this morning said people should not head into central Christchurch to observe it.
He told TVNZ's Breakfast programme that roads into the city were still in an appalling state and people reflect "in their own way", rather than entering it.
"We're in traffic chaos," Mayor Parker said, stressing that roads were still acting as life-lines for emergency workers to use and should not be congested.
He said the silence was about everyone "standing together", regardless of where they were.
"The two-minute silence at 12.51pm is really about whatever you are doing, stop ... and we all stand together as one," he said.
"This is the first time we will all reflect in a month."
Disaster victim identification teams from Thailand and Israel last night joined the operation, Civil Defence said.
A four-strong disaster victim identification team from Queensland had also arrived, taking the number of people working to identify the dead to 170.
Aftershocks
Aftershocks are continuing to shake Christchurch with the latest a 4.3 magnitude earthquake at 9.10am.
GNS Science reported the earthquake was centred 10km east of Lyttelton at a depth of 2km.
GNS Science seismologist John Ristau said this morning's large and shallow aftershock could have pushed earthquake damaged buildings to breaking point.
The Geonet website has already received reports of damage and slight damage in its wake.
"If you have something that's ready to topple then all it takes is a little push.
"Depth plays a huge factor in how strongly an earthquake is going to be felt. Just a few kilometres of depth can make a huge difference."
Mr Ristau said the number of large aftershocks in Christchurch was trending downward.
It was encouraging that this morning's quake came more than 24 hours after a 4.1 aftershock that hit 10km south-east of Christchurch at 7.55am yesterday, he said.
But he warned a magnitude 5 or more quake was still possible in the next few days.
"The aftershock sequence is dying off fairly quickly. Hopefully things will start to quiet down in the next couple of days. But that magnitude 5 is still possible."
Residents took to Twitter to report this morning's aftershock, saying it shifted furniture, rocked cars from side to side and made roads seem like they were swaying.
Twitter user invervegas KDP said: "Sitting in my car for that one.. Felt like two guys were rocking it!".
gutterkitten ashley t said "That came out of no where, made me jump out of my skin".
- NZHERALD STAFF, NEWSTALK ZB, NZPA and AGENCIES