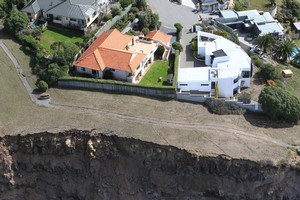 Police have had to evacuate more residents from the Christchurch suburbs overnight following numerous aftershocks that continue to roll through the unstable ground.
Yesterday police evacuated 200 properties from Redcliff and neighbouring suburb Clifton Hills after cracks appeared in cliffs above the houses.
Last night a further 12 houses were evacuated from Redcliffs after fears some of the banks would give way, Superintendent Russell Gibson told Radio New Zealand.
"And in the Bowenvale area in Cashmere we evacuated 65 homes."
Engineers have identified the properties as being in a risk area where there was a danger of the houses being hit by falling rocks, Mr Gibson said.
"We're going door to door and moving people out. And I've got to say that we're getting fantastic support, people are accepting of that and we'll have engineers back in those places at dawn reassessing, making sure that if it's a true danger then they'll have to stay out.
"If we can put them back in their homes then we'll do that."
- NZPA