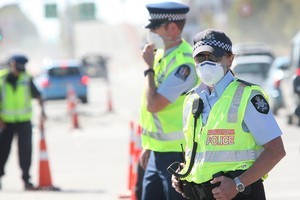 Christchurch Mayor Bob Parker says people should not head into the central city to observe the two minutes' silence in honour of the victims of last week's earthquake today.
Prime Minister John Key has asked all New Zealanders to observe the two minutes' silence from 12.51pm - exactly one week since the 6.3 magnitude quake hit.
Civil Defence this morning said the death toll from the earthquake had risen to 154.
Civil Defence said more than 240 people were still unaccounted for but that the number would include many, or all of the fatalities. Click here for the full Civil Defence update.
Mayor Parker told TVNZ's Breakfast programme that roads into the city were still in an appalling state and people reflect "in their own way", rather than entering it.
"We're in traffic chaos," Mayor Parker said, stressing that roads were still acting as life-lines for emergency workers to use and should not be congested.
He said the silence was about everyone "standing together", regardless of where they were.
"The two-minute silence at 12.51pm is really about whatever you are doing, stop ... and we all stand together as one," he said.
"This is the first time we will all reflect in a month."
Mr Parker said the spirit of people, particularly in the badly-hit eastern suburbs, was "amazing".
He said he still found the devastation hard to believe.
"Today will be the most emotional moment," he said. "Can you imagine the power of that emotion?
"We've lost people, we've lost iconic buildings, we've lost our Cathedral in the heart of the city..."
"How can this happen to our place?"
Rescue workers will also pause to mark the two minutes' silence.
Disaster victim identification teams from Thailand and Israel last night joined the operation, Civil Defence said.
A four-strong disaster victim identification team from Queensland had also arrived, taking the number of people working to identify the dead to 170.
Police Superintendent Russell Gibson told Radio New Zealand that police last night had to evacuate more residents from homes in the Christchurch suburb of Redcliffs and the Bowenvale area of Cashmere.
Evacuations
Last night a further 12 houses were evacuated from Redcliffs after fears some of the banks would give way, he said.
"And in the Bowenvale area in Cashmere we evacuated 65 homes."
Engineers have identified the properties as being in a risk area where there was a danger of the houses being hit by falling rocks, Mr Gibson said.
"We're going door to door and moving people out. And I've got to say that we're getting fantastic support, people are accepting of that and we'll have engineers back in those places at dawn reassessing, making sure that if it's a true danger then they'll have to stay out.
Meanwhile, most of the Clifton Hill residents who were evacuated yesterday were allowed home last night about 6pm.
Senior Sergeant Murray Hurst told NZPA engineers had given the hillside the all clear.
About 10 residents whose homes had been declared uninhabitable were not able to return, he said.
The youngest of the named victims of the Christchurch earthquake was farewelled by family and friends yesterday. Two hundred people attended the funeral service for five-month-old Baxtor Gowland.
Funerals will be held today for two more victims, Jaime Gilbert, and Joseph Pohio.
Hope of finding any more survivors is waning.
- NZHERALD STAFF and NZPA