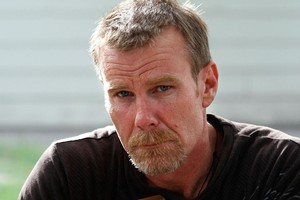 Dean Dunbar lost a teenage son in Pike River mine. Now, after seeing two homes wrecked in the Christchurch earthquakes, he is not taking any chances with his daughter.
He has sent Georgia, 7, away to safety in Wellington.
Last Tuesday's killer earthquake ruined the house Mr Dunbar's daughter was living in with her mother. The September 4 quake extensively damaged the dwelling he shared with Georgia.
Mr Dunbar will soon meet up with Georgia and her mother on the West Coast to start new lives.
"I'm jinxed, I think, mate. I'm starting to think, 'What next?'" Mr Dunbar told the Herald.
His son Joseph, 17, was among the 29 miners killed in the Pike River mine disaster in November. Joseph had moved from Christchurch to Greymouth with his mother, Pip Timms, to make a fresh start.
He was so excited about his new job that his boss allowed him to start work a day early. But an hour into his first shift, a blast ripped through the mine.
Joseph's death occurred a couple of months after the September 4 quake wrecked his father's Christchurch accommodation. The chimney fell through the roof, and Mr Dunbar cut his feet on broken glass as he carried Georgia to safety.
When last Tuesday's quake hit, Mr Dunbar rushed across town to the Fendalton house where Georgia was staying with her mother.
"The roof was gone, and they were in there crying," he said. " I kicked the doors down to get some clothes and essentials. It was just uninhabitable. This last shake really shook Georgia. I have never seen her like that before."
Mr Dunbar said many of the possessions he had put into storage after the September quake were smashed to pieces. "We have pretty much lost everything."
He feels the West Coast offers a haven away from the quakes, as well as the chance to be closer to Joseph.
"Where we go from there, I don't know. But it won't be in Christchurch. That little girl is keeping me going."
Mr Dunbar said the latest big quake had struck at people's sense of security.
"That first one didn't really rock us as much as this one has. This one, all I know is people are waiting for the next one. Everyone is just bailing [out of Christchurch]."
Mr Dunbar is one of more than 50,000 people fleeing the city. Some are leaving temporarily to escape the aftershocks, but many have indicated they are leaving for good.