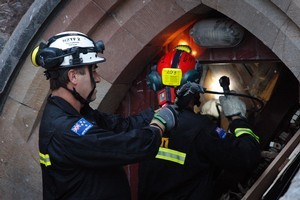 A stained-glass window below the shattered spire inside the Christchurch Cathedral is flawless and untouched.
It glows in the evening light, flashing ruby reds, greens and violets, but above it is a chasm that opens to the sky and the shattered leftovers of a tower that once symbolised the heart of the city.
It is a strange contrast of artistic beauty and heart-breaking destruction that is repeated in the nave.
Last night, the Herald went inside the cathedral, where as many as 22 people are believed to have died.
Photographer Sarah Ivey entered through a side door, escorted by Urban Search and Rescue (Usar) staff.
She said the far wall was still dotted with beautiful, colourful windows.
But the floor was chequered with giant piles of rubble - stone, the wooden remains from pews, bricks - and clearings where rescue workers had swept a path through the debris.
Below the giant cuts through the roof were splintered steel girders bearing nothing of the wooden beams they used to hold.
In the middle of the floor was a steel pipe 1m tall by 10-15m long - a reminder of the risk of falling masonry. Rescue workers are armed with a horn which, when sounded, is a signal for them to dive headlong into such havens, which are designed to withstand anything the cathedral can throw at them.
Anyone entering the building, including Ivey, must be dressed in protective gear and given a briefing on three safe points, one being the haven. Usar members were at her side the entire time.
Apart from a few pigeons in what remains of the rafters, there was barely a sound, as if a silent blanket had descended on this sacred place in honour of those still buried within.
In one pile of rubble, next to a stone pillar that was defiantly still standing, the lectern stood upright, but beheaded to a shattered stick.
Rescuers carried out their work underneath electrical wires and big sheets of timber.
The cathedral, so sacred to the city, was smashed beyond recognition. There was no furniture visible among the rubble; pews were non-existent.
Ivey had never seen anything like it. "It was like walking into a black and white movie set that had been hit by a tornado. Everything was layered in a velvety dust and with every step I took there was a crunching of broken glass.
"It was so dusty I did not want to touch a thing. I did not want to leave a fingerprint.
"It was hauntingly eerie. I was in there for mere minutes but I did not say a single word."
Yesterday, Prime Minister John Key confirmed an inquiry would be held into the earthquake and safety issues around building collapses, which cost dozens of lives.
"There has to be an inquiry. We have to provide answers about why so many lost their lives," he said.
The Prime Minister will be in Christchurch today to observe two minutes' silence at 12.51pm - the exact time Tuesday's quake struck.