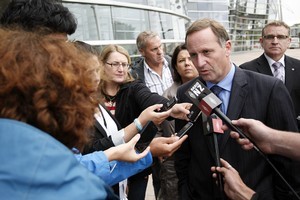 Christchurch businesses and workers are to receive a $120 million initial shot in the arm with the Government yesterday unveiling an economic assistance package to help see the city through the next six weeks.
However the package, which dwarfs the $10 million assistance extended after September's quake, won't save all businesses and jobs as the closure of two supermarkets yesterday with the loss of over 200 jobs demonstrated.
Prime Minister John Key said Cabinet had first considered a four week package, "but on reflection today given the scale and severity of the earthquake we've decided to make it for six weeks so we can use the next five weeks to carefully develop policies for the next step".
The first part of the two-part package will help businesses survive by subsidising their wage bill to the tune of $500 before tax for each fulltime employee and $300 for each part-time worker.
The second part will support workers whose employers believe their businesses are no longer viable and workers who cannot contact their employer.
Fulltime employees will receive $400 a week after tax and part timers $240 a week.
Mr Key said the package was "a first step to help the people of Christchurch rebuild their lives and livelihoods" and was designed to keep businesses connected with their staff. He said the Government was likely to err on the side of generosity when deciding who was eligible for the support.
For example, workers among the 30,000 to 50,000 Christchurch residents who have fled the city in the last week would be eligible.
"I'd like to encourage people where possible to go back to work if they can. Where their workplace is safe and their family safe, the biggest contribution people can make to their city's recovery is by going back to work."
Best estimates are that up to 42,000 workers will draw the support for up to six weeks at a potential cost of $100 million to $120 million.
Mr Key said that would give the Government breathing room to consider what it needs to do in the medium term.
During the next five weeks the Government will consider further options to support Christchurch's economy, including extending the package or changing it. Both types of payments will be backdated to the date of the earthquake, and Social Development Minister Paula Bennett said the money was available immediately. She also announced $3.5 million funding for organisations providing support services and counselling to quake stricken Christchurch residents.
Meanwhile, the quake's effect on Christchurch businesses was being already being keenly felt by more than 200 workers employed at the New World supermarkets at Redcliffs and St Martins who were yesterday made redundant. Foodstuffs South Island said the severity of the damage to the two stores meant they would not be reopening for some time.
New World St Martins had 167 staff and New World Redcliffs had 69. Each is to receive two months' redundancy and up to $500 of shopping vouchers. Because they receive redundancy the workers will not be eligible for the Government's Earthquake Job Loss Cover. Foodstuffs said it was committed to rebuilding the stores.
Labour leader Phil Goff said as a first step he was "not uncomfortable" with the package.
"We must rebuild the city and we must cater for the needs of its people. They cannot be left alone to meet the cost of this disaster."
If there were gaps, such as people missing out because their businesses were in Christchurch but their headquarters were elsewhere, then they could be addressed later.
Canterbury Employers' Chamber of Commerce chief executive Peter Townsend welcomed the package as a "good start".
"It is designed to be an immediate cash injection for employers and employees together and I think it will achieve that objective".
SEE ALSOGovernment aid a start, but more needed - Business, B1