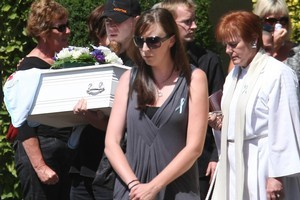 Distraught relatives of baby Baxtor Gowland have spoken for the first time about the 5-month-old's death after last week's devastating earthquake.
Little Baxtor, born just 13 days after the first earthquake hit Christchurch on September 4, was asleep in his bed on Tuesday and was hit by falling masonry.
He was rushed to hospital, but his injuries were too serious for him to survive.
At his funeral yesterday, mourners wore white ribbons and some arrived carrying balloons decorated with smiley faces.
Two police officers attended the service at a chapel in Upper Riccarton, but left about halfway through. One officer wiped away tears.
After the service Baxtor's tiny white coffin was placed on to the back seat of a car next to his mother, Breanna Gowland, who walked from the service holding a little blue teddy bear.
She was distraught but allowed a relative to say a few words.
Baxtor's great-uncle Peter Croft choked with emotion as he spoke of how the little boy died.
"The last week has been a tragedy for Canterbury and New Zealand. It has been especially difficult for our family because of the death of Baxtor," he said. "Baxtor was sleeping peacefully at home at the time of the earthquake and he was seriously injured by falling masonry. He died in hospital."
Media had been asked not to attend Baxtor's funeral service inside. Mr Croft said the interest in the service for his nephew was understandable, but the family requested privacy.

"We have all been thankful of the support and good wishes from people from New Zealand and around the world. However, we would like to think today is for family and friends, so we can farewell Baxtor with peace and dignity."
Baxtor's father Shaun McKenna set up a tribute page on Facebook.
Before the funeral he requested a minute's silence for his "beloved" son. He said his "little man" made everyone who met him smile.
"May you look down upon us and help us remember your beautiful face. Bax you are forever in our hearts, we will always love you."
It is understood Baxtor was to be buried next to his grandfather.
The next funeral to be held for earthquake victims will be Jaime Gilbert's. The 22-year-old father of two died when the Iconic Bar collapsed in the quake. His sister, Amy Cooney, survived and was found holding Mr Gilbert's hand.
His funeral is this morning.