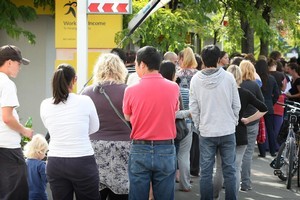 Officials say they are "erring on the side of generosity" in handing out emergency welfare grants to people who have lost their homes and livelihoods in the Christchurch earthquake.
Social Development Minister Paula Bennett said Work and Income paid out $2.7 million in 17,000 emergency civil defence grants by 10am yesterday - an average of one grant for every eight Christchurch households.
A spokeswoman said officials could not ask for evidence of hardship in cases where people had lost everything and had no documents available.
"If you look at people in Christchurch and the sort of state they are in when they're turning up to Winz, you can't turn them away," she said.
"[Officials] are having to err on the side of generosity."
However, the Social Development Ministry denied reports that it was handing out cash.
It said people who went to Work and Income centres were given vouchers and those who called the earthquake helpline could have money transferred to their bank accounts.
Existing Work and Income clients could have credits made to their payment cards used for food grants.
It said the agency now had seven mobile vans travelling around the worst affected parts of the city in addition to four regular offices open at Shirley, Linwood, Riccarton and Hornby.
Payments ramped up dramatically over the weekend, with $1.02 million paid out by Saturday and $2.21 million by Sunday. The average payment amount by yesterday was $159.
Civil defence grants are available for anyone billeted in private homes, marae or community centres up to $247 a week for couples, $146 for single adults and $73 for children, with higher rates up to $840 a week for families evacuated to motels and other tourist accommodation.
Evacuees can get up to three-quarters of the standard unemployment benefits for loss of income while billeted, or the full unemployment benefit if they can't work but are still in their own homes.
Extra payments for food and clothing are available up to twice the normal limit - up to $400 for single people and up to $1100 for families.
Other welfare services were hit by the earthquake and are only just getting under way again. Christchurch's Anglican City Missioner Michael Gorman said the mission would have a mobile food bank and a meal service for the homeless available from today.
"We can't open the men's night shelter yet, so we'll take meals to different points and they can go back to the parks or wherever they are sleeping," he said.
The Riccarton Club has given the mission temporary space for its offices.