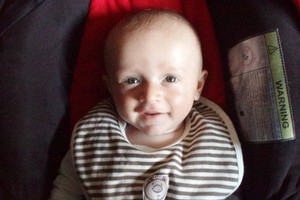 The youngest victim of the Christchurch earthquake is being laid to rest today.
Five-month-old Baxtor Gowland was born on September 17, two weeks after the first earthquake rocked Christchurch in September.
Last week he was named as the youngest confirmed victim of the 6.3 quake.
More than 200 family members and friends gathered at Academy Funeral Services in upper Riccarton this afternoon to celebrate Baxtor's short life.
A family friend said Baxtor would be laid to rest beside his grandfather but only 15 people would be allowed at the cemetery because of the earthquake.
At the funeral, Baxtor's great aunt thanked the emergency services and those at the hospital.
"Thank you for coming, your support is really appreciated," she said.
"There are many people to thank who have been incredible during this very difficult time.
Breanna [Gowland] and Shawn [Mckenna, Baxtor's parents] have asked that we thank Amalgamated Builders who were there to help get Baxtor to the hospital and the police and the hospital staff and strangers who became friends.
"And so we have come with very heavy hearts today to remember with love and say goodbye to baby Baxtor... a treasured baby son."
A police officer was forced to leave the ceremony after being moved to tears, while another female police officer was seen comforting a male officer.
After the ceremony, Baxtor's white casket was taken from the church and lowered into a hearse.
Mourners gathered around the hearse hugging and crying before it left for Baxtor's burial.
Baxtor's family is asking for donations to the Mothers and Babies Service at Princess Margaret Hospital in lieu of flowers.

Tributes to Baxtor
Tributes to Baxtor and messages of support for his mother, Breanna Gowland, have flooded into Facebook since his death.
Ms Gowland's friend Charlotte Foote said she was already missing Baxtor and reflected on her favourite memories of him.
"Remember snuggles and giggles at Uncle Pete's birthday, you were so funny.
And just you remember who gave you your first taste of chocolate ganache, yummy! Love you so much precious angel, you be good up there okay."
Another friend said she was brought to tears over the news of Baxtor's death.
The little boy's name was among four released yesterday as the first official deaths of the quake. Police did not release any details of the circumstances of Baxtor's death.
Friends were rallying on Facebook, offering Ms Gowland and her family support in their time of need.
Sarah McKenzie wrote: "Am struggling to comprehend what you are going through ... am here if you need absolutely anything. Sending lots of love and big hugs."