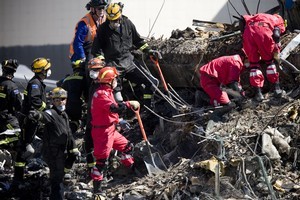 Police have named two more people confirmed dead in last Tuesday's magnitude 6.3 earthquake.
Superintendent Dave Cliff told a joint media conference in the city that Natasha Sarah Hadfield, 38, from Kaiapoi and Owen Morris Wright, 40, from Lyttelton, had died.
Mr Cliff said the death toll had now reached 148, with more bodies expected.
"It may be that human remains are located but not complete bodies. That's an enormously sad thing for the families involved," he said.
Fire Service spokesman Russell Wood said fires in the demolished buildings could also make identifying bodies more difficult.
Mr Wood said the devastated Pyne Gould Corporation building had moved slightly amid a wave of aftershocks hitting Christchurch.
Despite fears of future movement, recovery teams would continue to work at the site, he said.
A crane was being brought into the area today to pick off material.
Mr Wood said Urban Search and Rescue were continuing to search every building in the city centre one by one.
Some team members were being lifted onto the top of damaged buildings so they could continue searching for people from the "top down rather than the bottom up", he said.
Mr Wood said a large temporary structure had been installed at the Cathedral to stabilise a wall.
Christchurch Mayor Bob Parker said there would inevitably be an enquiry as a result of last week's devastation.
"Essential to this city going forward is safety and the perception of safety," he said.
While the PGC building was built in the 1960s, earthquake building codes only came about in the following decades, he said. The CTV building was built in 1985 and had been upgraded in 1992.
Mayor Parker said the Grand Chancellor hotel remained a risk but had stopped moving.
Health warning
He told reporters a health warning had been issued for Christchurch as bad weather was expected to stir up thousands of tonnes of silt and dust dislodged by the earthquake.
High strength winds expected to hit the city today could fill the air with the 180,000 tonnes of silt, he said. That compared to 30,000 tonnes of silt dislodged in last September's earthquake.
The material could affect people's respiratory systems, he said.
Mayor Parker said 55,000 homes remained without water - around 35 per cent of residential properties.
"Please boil any water you get out of pipes in the city," he said.
Mayor Parker said Pioneer Stadium was now available for showers for public.
A New Zealand Red Cross spokesman told the conference the organisation had already received around $5.2 million in donations for its earthquake appeal. All of the money donated will go to the victims with the organisation absorbing administration costs.
Evacuations
A magnitude 4.1 aftershock just before 8am has prompted the evacuation of residents on Clifton Hill in the Christchurch suburb of Sumner.
Police said up to 60 properties were being evacuated over concerns about the stability of a cliff face. It was not known how long residents would need to stay out of their homes.
Police said officers were contacting each affected house directly and a geologist was assessing cracks in the cliff.
Residents in Kinsey Terrace, Tuawera Terrace and at the bottom of Clifton Terrace are asked to proceed past the Sumner Beach Surf club and assemble in an area near the Poseidon Cafe.
The 7.55am aftershock was centred 10km south-east of Christchurch at a depth of 5km, GNS Science reported.
The evacuations at Clifton Hill came after Civil Defence closed the main road into Sumner to assess the stability of the rock face between Cave Terrace to Nayland Street.
Civil Defence said people should use Evans Pass via Mount Pleasant Road and Summit Road to access the area.
Electricity
Severe earthquake damage is slowing efforts to restore power to 30,000 people in Christchurch's eastern suburbs and CBD.
Power has now been restored to 84 per cent of the city, but progress has slowed considerably since last week.
A statement from lines company Orion attributes the change to badly damaged equipment in eastern areas.
It says the company is still focussed on reconnecting power to 95 per cent of the city in the next seven days.
Restoring power to Redcliffs, Sumner and Mt Pleasant are its priorities for today.
Orion is constructing a new overhead line to supply power to the suburbs Brighton and Dallington, due to damage to four major underground lines.
The 2.5 km line is expected to be strung today and a large transformer is being taken to the site.
Assistance package
Cabinet will today discuss a package to assist with the immediate recovery from last Tuesday's earthquake, such as an extension of the $350 subsidy a week per worker put in place after the September quake. That subsidy was only for workplaces with 20 or less employees but Mr Key said today's package would be broader.
Prime Minister John Key told TV One's Breakfast programme the Government would help those companies in the central business district (CBD), closed by the quake but able to open temporarily in other locations.
Mr Key estimated this quake would cost about $13 billion, on top of the $6b-$7b of the first quake.
Global fund-raiser
At the weekend Mr Key launched a global fund-raiser the Christchurch Earthquake Appeal.
Donations can be made at www.christchurchearthquakeappeal.govt.nz
Telecom, Vodafone and 2Degrees mobile customers can text chch to 933 to make an automatic $3 donation, and donations can also be made through internet banking or at any branch of New Zealand's retail banks.
- NZPA, NZHERALD STAFF, NEWSTALK ZB and AGENCIES