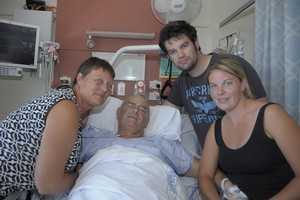 Trapped in excruciating pain for hours while pinned under a concrete wall, Brian Coker wanted a "decent aftershock to finish it".
Instead, the 52-year-old - whose legs were amputated with a hacksaw and a foldout knife - says his wife saved him by alerting rescue teams to his plight inside the crumbling Pyne Gould Corporation building.
Mr Coker is recuperating in Waikato Hospital with his family and released a statement last night to tell his story.
The details of his incredible survival came soon after police confirmed that the death toll from the Christchurch earthquake will pass 200.
A financial adviser on the first floor of the Pyne Gould building, Mr Coker was about to walk downstairs to lunch when the earthquake struck.
He clung to a balustrade as ceiling tiles fell around him, and was swept off his feet when a concrete wall toppled onto him.
"I knew straight away I was pinned and there was no way I could get myself out. I thought I was going to die. I was in two minds whether to text [wife] Helen or not as I didn't want to worry her. But I wanted to tell her I loved her and that I may not survive."
Mrs Coker was in Palmerston North visiting relatives. Straight away, she rang police to say her husband had sent her a text, and described where he was and what he was wearing.
Mr Coker also texted his children, then turned his phone off to save battery power as the signal was weak.
With blood dripping from his head and in "excruciating pain", he said, he protected himself with loose panels as debris and dust fell with every aftershock.
"I just wanted there to be a decent aftershock to finish it. I sort of thought that ... if I lost consciousness it would just ease the pain, but I presumed then that I would just die.
"I had to keep breathing so I did my labour deep-breathing exercises. I had no water and the concrete dust was in my nose, in my mouth."
Some hours later, around 7pm, his rescuers arrived. One gave him water, then led in engineers.
"They kept reassuring me they would get me out. I could hear other people screaming in the building."
He was still conscious when the doctors cut his trousers, but didn't know his legs were going to be amputated. "They had no choice."
Anaesthetised with morphine and ketamine, Mr Coker doesn't remember the amputation. Christchurch Hospital anaesthetist Bryce Curran and Australian urological surgeon Lydia Johns Putra removed both legs in the dark with the tools at hand - a hacksaw and the foldout knife from a Leatherman. It took about 15 minutes.
"The decision was made to remove the man's legs because he would have almost certainly died if we had delayed," Dr Curran said.
"He was continually bleeding, he would have bled to death. There was no way he was going to be extracted from the situation."
Mr Coker said yesterday that he would like to thank those involved in his rescue and meet them some day.
"I owe my life to Helen for contacting the emergency services and my brother Malcolm, who is a paramedic."
While her husband was being pulled from the wreckage, Mrs Coker caught an interisland ferry and drove to Christchurch, arriving at 7am on Wednesday.
Mr Coker was then transferred to Waikato Hospital on a medical flight, so Mrs Coker and her son flew to Auckland at 9pm. Their daughter drove them to Hamilton, arriving at 1am.
Mrs Coker did not sleep for 48 hours until she was reunited with her husband of 25 years.
Doctors have told Mr Coker he will be in hospital for several more weeks until the stumps heal, followed by more operations and rehabilitation.
He said the medical care had been brilliant. "I was reasonably healthy before all this, pretty fit, so that will help me, I'm sure."
Mr Coker was worried for his friends and family still suffering in Christchurch.
"I have colleagues who are injured, and colleagues who are missing, and my condolences go out to their families," he said.
He was grateful for all the support from friends and family, as well as his employer, Perpetual Group, and his clients.
"Life will never be the same for so many people, including me. But what has not changed for me is my love for my family, friends and clients."
Last night, police confirmed the quake death toll was expected to pass 200. The confirmed number was 147.
Superintendent Dave Cliff explained that while 200 people were reported missing, police expected that most, if not all, of those confirmed dead were also on the missing list.
"It is only once we have confirmed the identity of someone who has died that we can crosscheck and remove their name from the missing list."
Dozens of foreign students are among the missing, and yesterday New Zealand assured Japan and China that it would "vigorously" investigate the collapse of the CTV building in which they were studying English.
Tertiary Education Minister Steven Joyce said he had met the countries' ambassadors to assure them "we were doing everything we possibly could".
Japan's foreign ministry has said at least 26 citizens are missing, and China state television has said that 20 Chinese students have yet to be accounted for.
- additional reporting: AFP