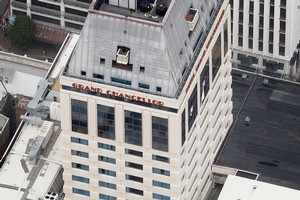 Christchurch Mayor Bob Parker says residents need to brace themselves for a likely CBD makeover with hundreds of buildings in danger of imminent collapse.
Mr Parker said last night that council assessments of 2955 buildings in the CBD showed that 755 had been red-stickered, meaning they could be demolished.
"The people of our city do need to prepare themselves for the level of damage that the fabric of the central business district has absorbed.
"It's extraordinarily large."
A further 909 buildings have been yellow-stickered, meaning limited, restricted access to the ground floor, and 1276 buildings have been green- stickered.
Meanwhile, Urban Search and Rescue team spokesman Paul Baxter said teams were making good progress at the three main recovery sites in the CBD as well as near the Hotel Grand Chancellor.
Mr Baxter said the "de-layering operation" had started at the Pyne Gould site where a platform was installed so heavy lifting equipment could be used.
One Usar officer said crews there were wary because of the risk of asbestos being present in the building.
Media were yesterday barred from entry to the Christchurch Cathedral work site, but Mr Baxter said careful progress was being made as crews continued to remove debris.
"In the cathedral operation, we are moving ahead very well. Crews have established very good internal and external safe havens for themselves using large, heavy-duty 1.6m steel pipes to protect them from aftershocks."
He said the Hotel Grand Chancellor was a more difficult situation, and crews were still not in the building. Usar specialists and engineers were consulting closely over a plan to stabilise and access the building.
"In the Grand Chancellor it's still a very [much] more difficult situation and we are still not in this building.
"The work will be carried out by a contractor, and overseen by urban search and rescue in co-operation with the building's owner.
St John has hit out at hoax callers who have been wasting its valuable time and ambulance service resources.
"The ugly side of human nature is being revealed with hoax calls about people injured and trapped in buildings by the Canterbury earthquake coming into the emergency ambulance communications centre," a spokesman said.
"It's really sad because it's wasting everyone's time."
One text message sent on Friday read: "Just found phone one that works but not much life left. I am in corridor second floor I'm stuck."
The message resulted in St John staff and Urban Search and Rescue being alerted. However, police checked the phone details and found the owner of the phone alive.
A second hoax text later the same day and read: "Help me I am alive. I am inside CTV building, please come fast can't breathe".
That text alert came via a website set up after the quake, so it was unlikely a person trapped by the quake would have known of its existence.
- additional reporting NZPA