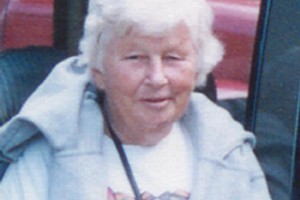 A woman told by police that her 78-year-old mother had been killed in the earthquake was shocked to learn six hours later that she was still alive.
Christchurch retiree Margaret Moon was having lunch in the Tasty Tucker Bakery in Colombo St with her husband Bruce when the earthquake reduced the building to rubble.
Her daughter Caroline Tarling had just finished her grocery shopping in Nelson later that afternoon when she received a call she will never forget.
"As I was paying the lights were pretty dark, there were fluctuations, and someone said, 'oh it's because of the earthquake'," Ms Tarling said.
"I walked out the door and my cellphone rang. And it was the police. They asked me who I was ... and I said I was her daughter. And he said, 'I'm very sorry to say that your mother didn't make it'.
"I didn't really panic. I was in a state of disbelief. I sat in my car for a while."
After she tried and failed to call family, Ms Tarling drove around the corner to the office of a friend, who called a policewoman to drive her home and contact victim support.
Police were sent to her brother Neil's house in Christchurch to deliver the bad news.
"Two policemen walked down their drive with Mum's cellphone in their hand. And then they told him, and his kids were freaking out.
"It was Mum's cellphone, so they obviously thought it was true."
The shock at hearing about Mrs Moon's death was made worse because they had no idea where Mr Moon was.
Then Ms Tarling's Melbourne-based sister received a phone call from the mother she had thought dead.
"By that time my two sisters over there were together, and my younger sister apparently interrogated the person on the end of the line, because she didn't believe it was her mother."
Mrs Moon's handbag and cellphone were found next to the body of a woman of similar age - who they had been sharing a table with - and police mistakenly believed her dead.
Ms Tarling was on the phone when her brother-in-law burst into the room yelling: "They're both alive, they're both alive!"
"You really don't know what to think. I said, 'What do you mean? What do you mean?' It's pretty sensational, really, when you think about it."
Mrs Moon has been transferred to Nelson Hospital with a broken arm and cuts and bruises, while her husband remains in intensive care in Christchurch Hospital with spinal injuries.
Ms Tarling said now her mother had recovered from the initial shock she was extremely worried about her husband, as were the wider family.
"I mean they've been married for about 55 years ... she definitely wants to know that her husband is all right."
Before retirement Mrs Moon had been a doctor, and Mr Moon had worked as a rocket scientist in Australia.
Ms Tarling said her parents were "very giving" people, and had travelled to countries including India and Vanuatu to do charitable work.
"Seeing my Dad on Thursday just totally out of it was horrible. He might be 81-years-old but he was fit and healthy and had at least 10 years more of life to live."
Despite the mix-up, the family did not blame the police, who had gone to great lengths to help them to find their father.
"They did what they could under the circumstances, and everyone was in shock and panic."
Ms Tarling was wary of making too much of the story because of how many people had lost their loved ones in the earthquake.
"Our entire family's hearts go out to those people," she said.