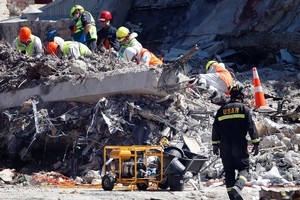 As Rob Cope-Williams looks at search and rescue workers picking through the crumbled mess of the CTV building, tears silently roll down his face.
Mr Cope-Williams, 61, is the farming editor, a presenter and producer for regional television station CTV and within the rubble are the bodies of his colleagues. He was not in the building when the earthquake hit.
He had tried to get in since but was stopped by those now guarding the cordoned-off areas.
So this trip with media on the buses through the city is his first visit since the earthquake brought the building to the ground, trapping his co-workers as well as those in the English language and nursing schools within.
Now only the elevator shaft end of the building stands. White-overalled body recovery workers carefully work at a point midway into the rubble.
A digger at the opposite end is in a macabre but surprisingly delicate dance, gently lifting concrete, steel and wire.
A truck carries off the shards of cement and glass that have been sorted through.
The building has featured strongly in hour after hour of television footage, but Mr Cope-Williams said the physical sight of it had brought it home to him.
"On television you don't get the enormity of it. It's not 3D. It becomes very personal when you see it.
"I desperately wanted to say goodbye to everybody. So this was closure."
The CBD is a now a desolate stretch which the bright sun of yesterday only served to emphasise.
No people move on those now eerie, dusty empty streets.
Cars still sit in metered parks, dust coating them. Life remains suspended.
The chalkboard outside the Beanscene cafe still jauntily announces the soup of the day as tomato, spinach and chickpeas.
Shop doors are all open, their wares still inside. Three rescue workers sit around an al fresco cafe table halfway down a paved pedestrian lane.
All the tables around them are empty, dishes smashed on the ground.
In an upstairs room of a building without its frontage, curtains billow in the breeze.
The cross at the top of the ruined Catholic Cathedral tilts, the angels on either side reach up and cling to it, appearing to be trying to hold it in place. Fluorescent spraypaint tells the status of each building and every car on the streets. It is a form of emergency tagging - a litany of "dog cleared," "Clear" and "no go" in bright pinks and orange.
Sean Moore from the United Kingdom West Midlands Fire Service is running the Pyne Gould Corporation effort.
It's been a long time since anyone came out alive, but he believes there is still "a glimmer of hope".
He was in Haiti last year and remembers pulling people out alive up to 15 days after the quake.
"But it is a very rare event, pulling someone out live. A very rare event."
When Mr Cope-Williams is asked if he thinks there is any chance of further life emerging from what he saw at CTV, he shrugs sadly.
"Not seeing it like that. It would be an absolute miracle."
His imagination haunts him.
He wakes and walks through the building in his head "and I can place where everybody would have been".
So at that terrible sight yesterday he cried.