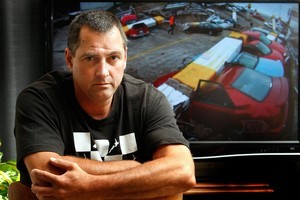 Adrian Marsh thought he was dead after he was crushed by slabs of concrete when the Smiths City carpark collapsed around him after the quake.
"I was buried up to my waist and then it went deadly quiet. I thought that was my time. But it didn't feel horrible at all, it just felt really peaceful. I thought, if this is the end, then it's not so bad after all.
"Then the pain set in so I knew I was still here."
The two people inside the collapsed carpark both crawled out to safety.
Mr Marsh was emptying recycling bins in the three-storey carpark on Colombo St when it started to shake.
"It shook first, then it started collapsing ... I lost my footing and fell down and got tangled up amongst the rubble around my legs and stuff. I was face down and I felt this pelting of rocks and rubble."
As he lay there, he could feel liquid flow over him. He said he didn't know if it was petrol or blood.
"I was waiting for the big one to finish me off, for another big chunk to fall on me. I was waiting to die," he told the Herald.
Mr Marsh kicked off the rubble then ran to turn off his truck which was still running.
He said the cab was completely flattened and if he had been in it he would have been crushed.
"If I was in there, that definitely would have been it for me. It was completely flattened to the steering wheel."
He reached into the cab for a bottle of water because he didn't know how long he would be trapped in the carpark.
Car alarms were going off around him and the rest of the carpark was dark and black, he said.
"Then I saw this little hole of light and went for that. I ended up on the top floor. From there I could see someone up there on the third floor of the building which hadn't collapsed.
"I went up there and it was a young girl called Gemma ... Then another aftershock happened and she was beside herself."
On the other side of the carpark the side of the building had fallen off and he could see two men were in there.
He said they all climbed through the hole in the building and got out on to Colombo St.
"It was like we knew what to do, it didn't feel we were doing anything out of the ordinary in an unordinary situation."
Smiths City managing director Rick Hollings said there were no casualties in the carpark.
"The miracle of it is that it collapsed straight down, it didn't go into the buildings on either side ... honestly the place is pancaked."