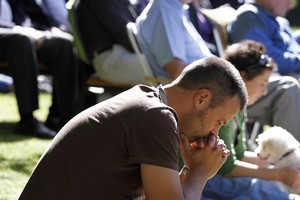 A sportsground sufficed for a group of Christchurch churchgoers, whose places of worship either lay in ruins or were too dangerous.
A congregation of about 40 people from Christchurch Cathedral, St Luke's and St Michael and All Angels met yesterday for their normal service at St Alban's Park, outside of the central business district.
They were among thousands around the city who gathered where they could to pay their respects to those killed in Tuesday's earthquake.
Many of the services in Christchurch were held in the open air because of the large number of churches damaged or destroyed in the 6.3 magnitude quake.
At St Alban's Park, the mainly elderly churchgoers sat on a cricket oval as locals walked their dogs or played with their children in a playground nearby.
With them was 68-year-old Maggie Copp, who regularly attends services at devastated St Luke's in the city - the sister church to a Napier cathedral that crumbled in the 1931 earthquake.
Since the first major earthquake, in September, caused significant damage to St Luke's, its congregation had been going to services at the nearby Rose Historic Chapel.
"St Luke's is a church where you can go in and have complete and total peace; it is a special place," said Ms Copp.
"But this is God's place too. You can hear the birds, you can see the trees swaying and children running around."
Also there was Andrew Mason-Williams, who lives in Shirley and goes to church "just at Christmas".
Mr Mason-Williams, 34, was going for a walk when he saw the service and decided to stop and pray.
"I just felt it was the right thing to do. I think there are a lot of people praying right now."
St Luke's organist Judy Moore said their beloved church was a "complete write-off". Tears began to show as she said it was "almost certain" that it would be among the many buildings in the city to be knocked down.
St Luke's minister David Moore told the service that the sheer scale of the destruction and deaths was astonishing and hard to fathom. He said everyone knew at least one other person profoundly affected by Tuesday's earthquake.
The Dean of Christchurch, Peter Beck, who normally preaches to a congregation of about 350 people, and a full choir, at the Anglican cathedral in the city square, said the worshippers gathered by word of mouth as he had had no internet to get the word out.
He is unsure where next Sunday's service will be held but said church leaders were looking at the possibility of an ecumenical service on March 13.
"But it's in the lap of the gods, so to speak."
On the lawn of Christchurch South Library in Colombo St, hundreds arrived on bicycles and on foot to reflect.
"Quite a few churches around the city do not have clearance and people are nervous about being in an enclosed space anyway so we have decided to meet outside," said the Rev Alan Webster.
"This is an open space where people can relax together."
Members of the congregation told one another stories of survival and there were tears, hugs and smiles of support.