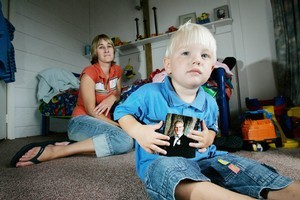 When Juliet Sheppard returns to New Zealand this week, she will finally be able to tell her 7-year-old son how his dad died.
Until now, Lee Sheppard has been described as "lost" to the little boy who has never met his father.
His mother was only a few weeks pregnant when Mr Sheppard went missing while on a night shift at a fridge recycling plant in North London in January, 2003. His body was never found.
A jury on Friday ruled he had died by asphyxiation after climbing into a chamber filled with nitrogen used to crush fridges.
But it took eight years, two police investigations and a private investigation to get answers.
Mrs Sheppard, her sister and mother, and Mr Sheppard's mother and her four remaining sons travelled to London to sit through three weeks of evidence from 14 witnesses at the North London Coroner's Court.
The family are now considering whether to take legal action against the plant, European Metal Recycling, who they say have tried to sweep the incident "under the carpet".
The company has never acknowledged Mr Sheppard may have died inside the chamber and evidence showed he had never received proper training to use the equipment.
Mrs Sheppard said the incident had "consumed my life for the past eight years" but now she is looking forward to getting married again next month.
"Life does naturally go on and I had to go on for Jaden's sake.
"I think the biggest thing to me is I've got some memories of Lee but Jaden never got to meet his father."
She said her son, a "little mini-me" of his father, knew she was going to London to talk about how he died and she would explain to him how he died in an accident at work.
Mrs Sheppard and her husband, both from Northland, were living in London on their OE when he went missing.
The court heard how the plant was not working that night so production had stopped and staff were drinking beers in the canteen.
Mr Sheppard was last seen by a colleague walking towards the plant about 2.10am.
Police at the time considered a number of possible scenarios such as Mr Sheppard had gone looking for sex after watching pornography on the work computer, that he had been the victim of a robbery and was assaulted or he had fallen from a railway bridge.
They searched a nearby canal, analysed Mr Sheppard's email and phone records, Interpol was contacted and blood was taken from one of his shirts to put into the police national database.
His dental records were sent over from New Zealand when the body of a man was found in south Wales, but there was no match.
A former flatmate, who left soon after Mr Sheppard went missing, was tracked to Canada for questioning.
But the investigation had several holes. Bags of waste from the recycling machine and material that was causing a blockage were collected but never forensically tested.
The family offered a £13,000 ($27,800) reward for information and in 2008, hired private investigator Ron McQuilter.
Together with Detective Sergeant Andy Goodwin, a London policeman motivated by the family's desire for answers, they pulled apart the original investigation and re-interviewed factory workers.
A Ukrainian man, who had been reluctant to speak in 2003 because of his immigration status, revealed he thought Mr Sheppard may have had an accident involving the machine.
A coroner's inquest was then ordered.
Mr Goodwin was highly critical of the original investigation.
"What should have happened is the plant should have been entirely closed down until police were satisfied beyond any reasonable doubt that there was no value in searching or examining the plant."
He said two officers looked inside the chamber and reported that there was nothing inside but neither of them would know what to expect without specialist advice.
He said there was no evidence that Mr Sheppard had planned to disappear and start a new life, was having a secret relationship or had any underworld links.
Mrs Sheppard said that without Mr Goodwin "we wouldn't have got to this point".
"I always believed that Lee wouldn't have just run off from us or the family so I knew something must have happened but I just didn't know what."
Mr Sheppard's mother Rose said it would probably take a year for the verdict to sink in.
The family are now planning a funeral.