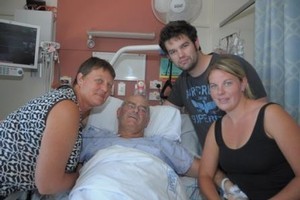 The earthquake survivor recovering after having both his legs amputated to free him has spoken out about his ordeal.
Brian Coker, 52, was rescued from the collapsed Pyne Gould Building on Tuesday night.
He was swept off his feet when a concrete wall fell on him.
"I knew straight away I was pinned and there was no way I could get myself out.
"I thought I was going to die. I was in two minds whether to text Helen [his wife] or not as I didn't want to worry her. But I wanted to tell her I loved her and that I may not survive."
He was not sure when rescuers arrived but it was some hours later, he said.
"I didn't know they were going to amputate my legs but I should have known."
A urological surgeon from Melbourne was chosen for the grim task because she was the smallest of the medical team to crawl into the tight space where Mr Coker was stuck.
As an anaesthetist gave him morphine and ketamine, she used the foldaway knife and a hacksaw offered by a tradesman, to amputate both the legs.
Mr Coker does not remember anything of the procedure.
"I was properly and professionally anaesthetised. I owe my life to Helen for contacting the emergency services and my brother Malcolm who is a paramedic."
His wife also said she wanted to thank everyone involved.
She said all the family's energies were now focused on the wellbeing of her husband, who is in a stable condition in Waikato Hospital.
"We would like to concentrate on Brian and his rehabilitation," she said.
Doctors say he will be in hospital for several weeks.
Brisbane urologist Dr Stuart Philip said the unnamed woman surgeon saved Mr Coker's life.
Urological Society of Australia president Dr David Malouf said the amputation took place 30 minutes after Tuesday's quake in a confined space under difficult circumstances.
"A field amputation of this sort is a very harrowing experience, especially under these conditions with very limited equipment and medication."
Dr Malouf said the female surgeon didn't want to speak to the media because the operation had been a collaborative effort and included an anaesthetist, a policeman and a police medic.
"I've spoken with the individual, she's doing OK," he said.
"It was very harrowing and part of her dealing with what was a terrible situation is really just having some time to deal with it on a personal basis."
- NZPA, NZHERALD STAFF