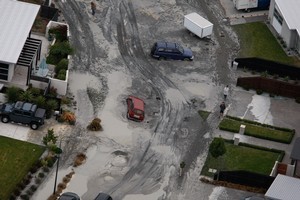 A ghost town - that's what Christchurch will become if the recovery from the September quake is any measure.
Those who suffered most then are still waiting for help, their broken homes still waiting for demolition or repair.
In Avonside, they still have portable toilets out front from last year.
In Bexley, clouds of silt still blow down the rutted streets.
And on Courtenay Drive, in northern Kaiapoi, the people are angry and disaffected. It is a blessing they survived the impact of Tuesday's quake - they are still dealing with the reality of the first.
Every second house is empty and unable to be lived in. Those homes still occupied have cracks in the floors, walls and ceilings.
John and Nicki McNeill built their own home at 99 Courtenay Drive seven years ago. With their two sons, they now rent in another suburb but still pay the mortgage on their uninhabitable dream home.
"We just wait, like everyone else in Christchurch," says McNeill. The family have 15 years of mortgage left to pay. They were about to sign with the Earthquake Commission to have the house demolished before a huge project to stabilise the suburb took place. It meant they could - eventually - look at rebuilding, even if it was years down the track. "Now that's been pushed back because they have to rebuild central Christchurch."
A plan to stabilise the land will see 22,000 piles driven into the earth, 10m deep and 20m wide. McNeill: "You have to ask if it's worth it now. Are they going to stabilise all of Christchurch? If an earthquake is going to get you, it is going to get you."
McNeill's troubles are echoed along the street in degrees. Some weren't mortgaged - and some weren't insured.
Dave and Ollie Baird have no new cracks in their home at No46, which is slated for demolition.
They reckon the existing cracks - some huge - give the house the ability to move with the new quakes.
Ollie has not managed the same flexibility. Every aftershock leaves her shaking. On Tuesday, she fled the supermarket after the quake and drove straight home, only to sit in her car trembling.
"I go to bed at night with my stomach in knots and my heart pounding."
And yet, they stay - trapped in a home no longer fit to live in. A meeting was meant to take place this week to chart a course ahead. It was cancelled after the quake struck on Tuesday.
"There's some really angry people on this street. They've had a gutsful. Like us."
Maurie Mullany has lived on goodwill since September, housesitting month by month.
His latest home is opposite the Courtenay Drive house he owns but can no longer live in.
He, like the others, had his meeting cancelled. He, like everybody else, has no surety about when life can go back to normal.
"This is our problem. We don't know. All our stuff is in lock-up and I can't get at it and I can't find anything I want. We just don't know."