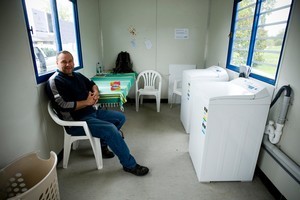 Not everyone bailed on Christchurch yesterday. For most people, it was the continuation of the big cleanup and coping with the lack of everyday necessities.
Laura Johnson cried as a group of random strangers on the side of a busy Christchurch road gave her food, bottled water and other essentials for her and her children.
"I just can't believe people can be so kind and generous," said Johnson, 27, of Aranui, who had three children aged 8, 6 and 4 in her car.
"It will be nice just to not have to worry about these things at least for a little while."
The group of about 30 people - who handed out bunches of bananas, bottled water, hot wild pork sandwiches, cakes, baked potatoes and essentials such as toilet paper - caused a traffic build-up stretching at least 2km near New Brighton.
Among the contributors was one man who provided two trailers of bottled water. Another supplied six pallets of apples and several boxes of bananas while Narell Chand and her friends from a Templeton organic nursery baked and filled hundreds of potatoes. "We just think it's a New Zealand thing to do," said Chand.
"We would like to think all New Zealanders would help out in some way. We also love our city and hate to see it like it is and what it has done to our people."
In Kaiapoi, local man Dave Grattan was manning a makeshift community laundry that Christchurch people were flocking to.
The laundry provided free washing powder and free use of its three washing machines.
"In a way the earthquake has been good because it has people getting to know their neighbours again," he said.
"Then again it's not great because I think some people want me to start a free ironing service."
Contact Energy offered free LPG bottle refills and hundreds of people lined up for them at Challenge and Caltex stations.
Up to 120 bottles an hour were filled.
Meanwhile, TV3 reported Rangiora yesterday had helicopter pilots flying 12,000kg of hot food out to hungry Christchurch residents.
However, normally popular public spaces like Hagley Park were very quiet.