Robert William Gummer
Pilot, farmer
Died aged 89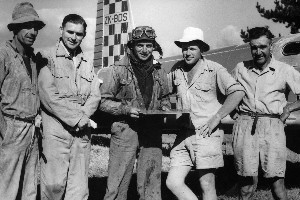 As an aerial topdressing pilot in the early 1950s Bob Gummer was given the task of testing and proving the prototype of the Fletcher purpose-built topdressing aircraft.
The type has since become a familiar sight spreading fertiliser over New Zealand farms and bush.
The testing was done for a month over the rugged and testing terrain of the King Country in the central North Island, areas of which are often described in farming parlance as "hard hill country".
And it meant flying off rough airstrips often bulldozed out of a sloping hillside.
Two of the people involved in the Fletcher development were Gummer's boss Guy Robertson, who founded Robertson Air Service in Waikato in 1951, and topdressing pioneer Sir Oswald James.
There was wide interest in aircraft as the only practical way of getting fertiliser, sprays or seed on to many farms and forests and a variety of aircraft were tried with varying results and not infrequent mishaps.
Bob Gummer was one of a handful of experienced, capable ex-Air Force pilots Guy Robertson took on. Initially the firm's aircraft were all Tiger Moth biplanes with the front passenger space converted to a hopper carrying the superphosphate. On take-off it blew in the pilot's face.
The load was quite small. In 1953 Bob and another pilot, Doug McElwain, and loader-driver Ron Henneker set a record for tonnage spread in a day by two Moths. They sowed 120 tonnes, each taking off and landing 240 times making 480 loadings, each load a quarter tonne.
Suffice to say the Gummer reaction to flying the first Fletcher ZKBDS was still remembered on his retirement from Robertson Air management in 1966. It was recalled that he promptly "became its most ardent and voluble supporter".
This prototype built in the United States had an open cockpit and a less powerful engine than later versions. But the Fletcher was an aircraft that became a winner.
Bob Gummer flew more than 8500 hours in the RNZAF in the Pacific during World War II and as a commercial pilot.
In 1954 he married June Howden and they bought a farm near Te Kuiti which he broke in from a completely reverted state. Of course it had to have an air strip.
Later they moved to Tutukaka in Northland, where he became a keen yachtsman and Commodore of the Tutukaka South Pacific Yacht Club.
He was predeceased by his wife, who was one of a small group of Kiwi woman pilots who ferried new or repaired aircraft throughout England during World War II.
He is survived by a son and two daughters and families.