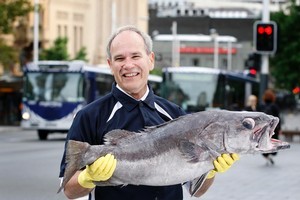 Next month anglers can catch a trout in Rotorua, a marlin off Tutukaka, a hapuka off the west coast or a snapper in the Hauraki Gulf and be in with a chance to walk away with a turn-key vehicle and boat package worth $120,000.
In fact, they can catch a wide variety of different fish and win prizes in the inaugural Rheem SuperCity Fishing Tournament, which will be based at the TelstraClear Pacific Events Centre in Manukau.
But what makes this fishing contest different is that people can fish anywhere they like. With satellite weigh stations in Whangarei, Rotorua and Tauranga they can fish their own area and then come to Auckland for the final prizegiving.
The total prize package will exceed $250,000 and includes the grand entry prize, which every ticketholder will have a chance of winning, of a Toyota Highlander, a Haines Hunter 535 runabout with a Yamaha 115hp outboard on a DMW trailer and other accessories. Other major prizes include a $20,000 Jag kitchen, and there is a wide range of electronics and fishing tackle.
The contest will be held on March 24-26, and is being organised by the Pakuranga Rotary Club to raise funds for charity. Club spokesman Kelvin Ricketts said he envisaged it becoming a permanent fixture on the calendar.
"It is unique in that it will cater for everybody from families fishing off a beach to serious fishos spending three days at Great Barrier or game fishing or snapper fishing off Northland or the Bay of Plenty or trout fishing in Rotorua." he said.
Auckland Mayor Len Brown welcomed the new event. He said it was appropriate for the new Auckland city to be staging what he believed would develop into the biggest fishing contest in the country, and some of the best fishing was right on the doorstep of 1.4 million people.
The location by the Southern Motorway makes access easy from all directions, and there will be a campground nearby for those wanting to stay.
The main snapper prize will be for the average-weight snapper, so those fishing close to Auckland or from the beach or a wharf will have an equal chance of winning. The Furuno Snapper World Cup will also be awarded at the contest as it will be the last in a series of nine fishing contests which are eligible for the event.
The new tournament will also be screened live on the new internet outdoor television channel, www.FishnHunt.Tv, and entrants will be encouraged to send in their video clips from out on the water. They will have a chance to win one of 10 mobile phone airtime packages worth $500 each from Vodafone, along with other prizes.
Tickets will cost $120 and $95 for early-bird entries, with junior tickets (under 14) $20 and $10 respectively which will go to prizes for the junior section. Fishing will start at 5am on March 24 and end at 4pm on March 26, and anglers can stay away till the last day if they wish, but will miss out on daily prizes.
"Somebody can catch a hapuka in Cook Strait if they want and bring it to Auckland. So long as they are there by the close of weigh-in on the last day," said Ricketts.
"We expect a lot of interest from trout fishermen, and while they will not be eligible for the main average-weight snapper prize, there will be a great range of prizes for trout, and they will have a chance at the gate prize."
Fishing will be restricted to rods and reels, and IGFA rules will apply for game fishing, and local Fish and Game rules will apply to trout fishing, irrespective of where they come from. One innovation is the introduction of bags for weighing in fish.
"Entrants will be issued with large bags with an individual bar code label matching their ticket, and they can simply leave their catch in a bag at the weigh station and head off for some refreshments, rather than waiting in line," he said.
Entry forms can be found in the next issue of NZ Fishing News and NZ Fishing World magazines, at leading sports shops and online at Rheemsupercityfishing.co.nz.
* More fishing action can be found on Rheem Outdoors with Geoff, 5pm TV3, and on the internet television channel, FishnHunt.Tv.