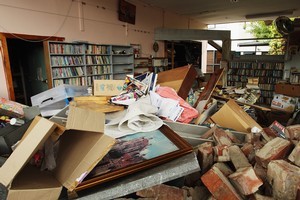 The death toll from the Christchurch earthquake now stands at 123 and is expected to rise further today, police say.
Superintendent Dave Cliff told a joint media conference this morning that 123 people had been confirmed dead.
"We do expect that number to rise today."
Two-hundred people remained missing and grave fears were held for people from more than 20 countries, he said.
Mr Cliff said rescue teams were still operating in the CTV and PGG building sites, and were still at the Christchurch Cathedral, where work was temporarily halted due to falling masonry.
Rescue teams were still working elsewhere in the city, looking through lifts, he said.
Christchurch Mayor Bob Parker told the conference people needed to steel themselves for the death toll to rise considerably in the coming days.
"It's a sad morning with the confirmed death toll now up to 123 people," Mayor Parker said.
"As we kept saying to our people in Christchurch and those around New Zealand and the world, you need to understand that you need to steel yourself for that number to increase in the days ahead. We know that will not be an easy time.
"This will not get easy in a hurry."
But he said rescuers remained focused.
"This might be a Saturday, and it might be that we haven't had good news stories we were hoping for in terms of finding people ... but for us this is just as important a day as the first day, the second day, the third day.
"Our approach will continue to be all of the people, all of the skills, to help us work through this tragedy. Our dedication has not moved one iota."
Immense scale of disaster
A number of eastern Christchurch residents were feeling more and more isolated, Mr Parker said, but he reassured all residents that - regardless of where they were - they were at the centre of workers' thoughts.
"Everybody is on deck. All hands are on the pump, but you do need to realise the scale of what is in front of us at the moment is utterly immense" he said.
But he said the work that needed to be done dwarfed that following the September 4 earthquake and appealed for patience.
"The work we are doing right now is crucial to the restoration of services across the city."
Mayor Parker said 329 people were in welfare centres last night, and that number was dropping as people left to stay with friends and family.
Infrastructure
Orion CEO Roger Sutton told the conference that power was now back on in more than 80 per cent of Christchurch.
Power equipment in some suburbs such as Sumner was not as badly damaged as previously thought, he aid.
Mayor Parker said that of the 1000 buildings that had been checked in the CBD, 60 per cent had been deemed to be safe, 17 per cent had been assessed as safe to access, but 20 to 25 per cent had been evacuated and deemed unsafe.
In the suburbs, 341 houses had also been red-stickered and evacuated. Another 500 had only limited access.
More investigation into the extent of damage to houses would be done today, Mayor Parker said.
"This is not a Saturday for us - it's another day of our immediate response."
Lyttelton was hardest hit in terms of day-to-day needs, such as food, he said.
Health
Canterbury DHB chief executive David Meates said there was a high level of stress in the communities, and he asked people to look after each other and talk to each other.
About 70 per cent of general practices were up and running, he said.
At Christchurch Hospital, the emergency department has been quiet for
36 hours, as expected. About 120 patients have been transferred to other hospitals around the country, and extra orthopaedic and cardiologist teams have been called in. No elective surgery would take place in Christchurch until at least March 7, Mr Meates said.
NZ deserves miracles
No trapped people have been found alive in the devastated city since Wednesday afternoon.
But Police Superintendent Russell Gibson earlier told Sky News the 10 international Urban Search and Rescue teams working in the city were adamant people could still be found in rubble nearly four days after the 6.3 magnitude quake.
"They have found people days later in places like Mexico.
"New Zealand deserves a couple of miracles here."
He said police reinforcements were being brought in from around the country to relieve the Christchurch officers who had injured family members or damaged homes.
Some officers have had to come to work despite having loved ones still on the list of those missing in the city, he said.
There have been eight aftershocks in Christchurch since midnight today, GNS Science reported.
The biggest was a 4.1 magnitude earthquake which struck at 6.52am at a depth of 9km within 5km of the city.
The numbers
PEOPLE
123 confirmed dead
More than 200 missing
Nationals of more than 20 countries among the missing
329 people in welfare centres
About 120 patients moved to other NZ hospitals
About 180 aged-care residents moved out of Christchurch
About 1200 police in Christchurch, with 324 Australian officers sworn in yesterday
More than 600 search and rescue personnel including overseas teams
PROPERTY
60 per cent of properties in CBD deemed safe, 17 per cent as safe to access and 20-25 per cent deemed unsafe
More than 4000 checks carried out on residential properties
341 suburban properties deemed unsafe and evacuated
Power restored to more than 80 per cent of Christchurch
70 per cent of general practices up and running
- NZHERALD STAFF, NZPA, NEWSTALK ZB, AGENCIES