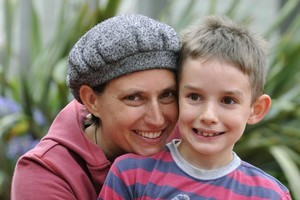 As Emma Woods dashed to her son's school in central Christchurch, she was terrified at the thought of losing a second child in nine months.
When she found 7-year-old Jacob sheltering under a table, he told her: "I thought my life was coming to an end."
Mrs Woods - last year named the Herald's New Zealander of the Year for forgiving the teenage driver who killed her son Nayan, 4 - was at a coffee shop in the city centre when the quake struck on Tuesday.
"There was stuff falling around me, but I don't really remember what happened. It was a bit of a blur.
"We stayed under the table until it stopped shaking, then we ran over to the school."
It took her about two minutes to run the couple of blocks to the school amid the chaos after the quake.
Once there, she found computers, books and other equipment scattered about.
The children had been led down from the school's two upper levels and gathered together under tables on the ground level.
"It took me about five minutes to find the table [Jacob] was under because he was in the office. It was quite scary because I couldn't find out where he was. But once we were back together, he was okay."
Mrs Woods said Jacob was resilient but was nervous on the night after the quake. "We slept on the floor in the living room that night."
Their family home had no power and water, and a lot of items inside were broken, but the house did not appear to be badly damaged.
Mrs Woods and Jacob and many of her other relatives have since left Christchurch for respite in Dunedin.
"We feel a little bit like we are abandoning the city. But it's probably better to get people out of the city so they are not being a drain on the resources."
The driver who killed Nayan last May lost control of his car and swerved up on to the footpath where Mrs Woods was walking with her two sons.