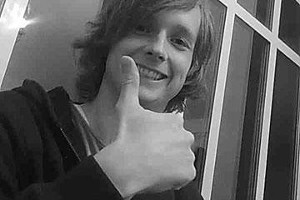 ISAAC THOMPSON
Associates of Isaac Thompson have come together to pray for their friend, believed to be one of dozens of people missing in the CTV building.
The 21-year-old was an employee of Canterbury Television, working in television and video production, technical engineering, post production and specialising in studio/ OB sound.
Friend Ellen Loughhead posted special messages to her friend on the networking site Twitter. "Come on [Isaac], you are strong! I love you," she said.
"You are constantly being prayed for and thought of. Love you so much."
Mr Thompson is also well known for his love of music and plays bass guitar.
SANDRA HII
Omar El-Hadad says Malaysian friend Sandra Hii, also known as Jen Jin, worked in the CTV building and had no other family in New Zealand.
The pair are in the same church group in Christchurch.
Family had contacted him for further information because they'd seen his name in an online story about his search for Ms Hii this week. She is in her mid-30s.
A sister is believed to be on the way from Brisbane.
EMMABELLE ANOBA
Emmabelle Anoba's sister is hoping her sister will return home to fulfil a simple promise - to teach her how to drive. Ms Anoba is one of nine Filipino nurses believed trapped in the CTV building. She was among many English students at the King's Education language school and had begun studying there two days earlier.
One of three siblings, Ms Anoba hails from Minglanilla in the Philippines.
Her younger sister Aprille has been posting on her Facebook page, encouraging her older sister to stay strong: "Wish I could hug you and tell you how much I love you. You promised that when you come back ... you'll teach me how to drive and we will have another family bonding."
EZRA MAE MEDALLE
Ezra Mae Medalle, 25, is another of the Filipino nurses missing in the CTV building. She arrived in the country on Sunday with her boyfriend Jessie Lloyd Albaracin Redoble - also a nurse and also missing - and the group.
The nurses had just taken up English classes.
Her cousin, Gil Sabayton Nazareno, said the last time anyone had heard from any of the nurses in the group was on Tuesday - the day the earthquake struck - via a telephone voice message asking for help.
Mr Nazareno's Facebook page shows an album of photos, most of them family shots at the airport on the day his cousin left for New Zealand.
JESSIE LLOYD ALBARACIN REDOBLE
Jessie Redoble had just begun a new chapter in his life when the earthquake struck.
The 25-year-old qualified nurse from the Philippines also had been in New Zealand two days.
He and his girlfriend, Ezra Mae Medalle, were among a group of Filipino nurses who had travelled to New Zealand to work.
They are feared trapped in the Canterbury Television building, in which they had just begun studies at the King's Education language school on the third floor. Mr Redoble hails from Cebu, in the Philippines.
SHANE TOMLIN
Shane Tomlin's family are following up every lead as they continue their frustrating wait for news of the 42-year-old.
His desperate and pained face, covered in soot, is one of the defining images of the earthquake. He was pulled to safety from the wreckage of the Trocadero Bakery in Cashel Mall but his family haven't heard from him.
Yesterday, one red herring came from Mr Tomlin's landlord who was at his house feeding a pet turtle, his mother Doreen Tomlin said.
"[Shane's landlord] was at his house and some young ones, who I think know Shane, yelled out to him that he'd gone to Auckland."
That was something that family had already checked. Mrs Tomlin is still hopeful of news that her son is well even given the distressed state he was in. She believes he may be in a coma and unaware of the search for him and unable to provide information about who he is to medical staff.
GIL HWAN YU and sister NAON
The father of two missing Korean language students, a brother and sister, has arrived in Christchurch to anxiously wait for news.
Consul Key Sun Shin, from the Korean embassy, says the father is "full of hope" of finding his son Gil Hwan Yu, 23, and daughter Naon, 21, alive in the CTV building rubble.
"The father is very depressed by what has happened, but he still strongly believes his children are still alive," Mr Shin said.
A support worker says the mother of the young pair could not bring herself to travel to New Zealand because she felt "partly to blame".
"She had insisted both her son and daughter went to Christchurch together to keep each other safe. But now both of them are gone, and she feels ... guilty," he said.
The two students believed studying English would give them an edge in securing good jobs in Korea.
They are among 120 people still unaccounted for in the CTV building.