Christchurch Star reporter Caroline King was one of the first on the scene after the CTV building collapsed.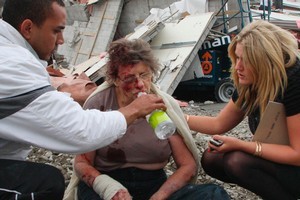 I can't believe my eyes as the first survivor is pulled out.
Looking at what remains of the six-storey building, nothing but rubble, it's hard to believe anyone could be alive. Yet, police and volunteers are dragging a woman from the wreckage. She is bloodied and bruised but alive.
Once clear of any debris that could fall, she is guided to the ground by rescuers to sit upright on a pile of rocks.
Her face is a mess, purple and puffed up like car crash victim.
A woman wraps a blanket over her shoulders, while a young man bandages her bleeding right wrist and offers her a sip of water.
Unsure what to do, I simply kneel down to try to comfort her, reassure her that help is on the way.
She says her left arm and shoulder are sore.
But despite the pain she is stoic, surprisingly resilient after surviving such a trauma.
Looking back, I realise she was probably just in shock.
"Thank you" is something she keeps repeating as we talk and more survivors are pulled from the pancaked CTV building.
A strong aftershock sends rescuers fleeing from overhead structures, but they return when the danger clears.
Then someone yells "Fire" as smoke starts billowing from the top of the rubble.
I still have my arm around the woman. I ask her name; she says "Anne Malcolm".
Later, I find out she is the mother of Outrageous Fortune actress Robyn Malcolm.
"In hospital with Mum. She looks like she's done 15 rounds with Mike Tyson, but has a smile," the star wrote on Facebook. "We are so lucky she is still here."
Soon, emergency services start directing people to a triage centre in nearby Latimer Square.
Survivors are shocked, crying and holding one another, trying to contact loved ones on cellphones.
Shortly after, the disaster zone at the CTV building is cordoned off.
A distraught woman stands at the barrier crying, desperate to get past.
Her name is Kate Busson; her younger sister, Deborah Roberts, works at King's Education, on the third floor of the CTV building.
I ask what her sister looks like. Deborah Roberts is slim, with long dark hair.
Unfortunately, I haven't seen her.
Kate just screams.
She picks up a piece of paper stamped King's Education and holds it close as we walk away from the cordon.
"I don't know why I'm carrying this," she said.
Deborah Roberts is still missing today, one of 100 believed to be inside.
There's nothing we can do.
- Caroline King
From helping to being helped
For the past six months, Anne Malcolm has counselled those suffering trauma since the September 4 quake.
Last night, she appeared on television to show the world there was something positive to come from the tragedy.
Mrs Malcolm is one of a handful of survivors from the CTV building.
"I'd come down five storeys with blocks on top of me, bits of roof on top of me, glass ... I don't know how I got out," she told TV One's Close Up from her hospital bed.
"It was like a tornado. Everything was flying. I think I probably got knocked out at that stage. The next thing I knew, I was probably down in the middle of the rubble."
She suffered a broken and dislocated arm and fractured femur, and is singing the praises of the hospital staff caring for her.
"I couldn't be better looked after, I couldn't ... It's the Christchurch attitude. We're all in it together."
- Jared Savage