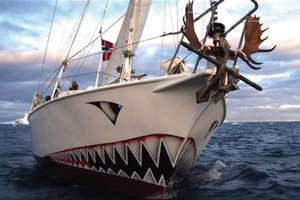 A damaged liferaft from Berserk has been found and its emergency beacon has stopped transmitting.
A race against time continued yesterday in the hunt for a Norwegian yacht with three crew aboard missing off Antarctica since Tuesday.
The area in which the 14m steel-hulled Berserk vanished has been lashed by high seas and winds of up to 150km/h.
Better weather and good visibility helped searchers yesterday but conditions were deteriorating last night, with pack ice forming and water temperatures of about minus 12C.
"Survival times would be minutes, if you're lucky," Maritime New Zealand spokesman Ross Henderson said.
A damaged liferaft found by a helicopter from the Sea Shepherd vessel Steve Irwin about 70km north of the yacht's original distress beacon alert has been confirmed as belonging to the yacht. The raft's canopy was torn and its survival kit missing, but it did not appear to have been occupied and may have broken free during heavy weather.
The yacht's captain, Jarle Andhoy, 34, and Samuel Massie, 18, have been located on the ice shelf about 160km from Scott Base.
Andhoy and Massie were apparently landed from the Berserk to travel overland to the South Pole by all-terrain vehicle, and have made contact with search and rescue officials by satellite phone.
The identities of the crew still aboard the Berserk have not been confirmed, but the full crew is believed to include four Norwegians and one Briton.
The Berserk's website names its crew as Andhoy, American film-maker David Mercy, a punk rock singer named Fredrik Juell who claims to be the grandson of a companion of Nobel Prize-winning humanist and polar explorer Fridtjoff Nansen, Oslo Hells Angel Rune Ohlsgaard, and "whalehunter, fisherman and navigator" Tom Gisle Olavvsson.
Massie is not included in the website's list and it is not known who - if any - of the named crew remain aboard.
Andhoy is a colourful adventurer who sailed solo around Cape Horn at 19, has since featured in TV documentaries, and who has clashed with authorities during polar travels.
The Berserk's website said Andhoy sailed to the Antarctic "to re-conquer the South Pole" a century after Norwegian explorer Roald Amundsen was the first to reach it in December 1911.
Rescue officials were alerted when Rescue Co-ordination Centre NZ picked up a signal from Berserk's distress beacon about 5pm on Tuesday.
Since then three ships, including HMNZS Wellington, have covered about 4000sq km in the search for the yacht.
No trace has been found, and the beacon has stopped transmitting.