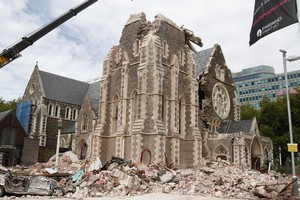 Search and rescue workers have begun work in preparation for removing bodies from under piles of rubble at the Christchurch Cathedral.
Dean Peter Beck told NZPA an Urban Search and Rescue team had begun work at about 2pm to remove masonary from the top part of the cathedral's collapsed tower.
"It's a very delicate job. I'm assuming that because they're now doing that they've been able to ascertain how safe the building is for these guys to be doing this work."
Mr Beck said there was no expectation anyone was alive in the rubble.
"The priority of all this is not the building, it's how you can get safely the bodies out and returned to their loved ones, that's the most important thing."
It has been reported that up to 22 people were missing in the cathedral, but Mr Beck said it was not clear if that was true.
"Knowing the building pretty well, and the way we have people in and out, my hope would be there are few."
Cathedral staff were at the west end of the building when the quake struck.
"That was damaged but not as badly as the east wing, otherwise we wouldn't be here," he said.
"Part of it could have fallen into the visitors' centre and cafe, thank God that didn't happen because there were a lot of people in there."
Mr Beck said it was likely the cathedral would be rebuilt.
"The cathedral is, in a sense, the symbol, the icon of our city and there is no doubt there is going to be a strong desire to rebuild it," he said.
"Preliminary reports by our structural engineer, and it is only early days, is that some significant parts of it can be saved."
Mr Beck praised the kindness people had shown each other throughout the disaster.
"In the local villages and communities that make up our city that's what has to happen and that is what's happening," he said.
"People are reaching out to one another, talking to one another, giving each other food, helping clear up a lot of the messes. That's what it's all about.
"You often see in these worst of times the best in human beings."
- NZPA