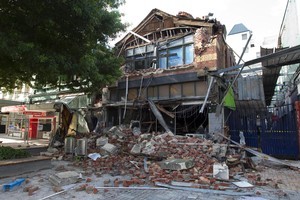 His pained, bloodied and dirt-streaked face has become one of the defining human images of the Christchurch quake and has been published in media across the globe.
Now Shane Tomlin's mother says she would rather get the news he is dead than carry on not knowing whether is alive.
Mr Tomlin, 42, was pulled from the wreckage of the Trocadero Bakery in Cashel Mall after the quake.
With one rescuer cradling his head, the injured man moaned in pain as he was lifted out of the destroyed building.
His mother, Doreen Tomlin, told the Herald there had been no sign of her son since. "The floor opened up and he fell right through to the next floor. I think he injured his back, but from the photo, it didn't look like he was going to die," she said.
"They took him to hospital on top of a police car. There were no ambulances around so a policeman came over in his car and they lay Shane on top of it.
There was a joker on each side holding on to him and they took him in like that."
Mrs Tomlin said her friends had now called every major hospital in New Zealand to check whether Mr Tomlin had been airlifted out of the city.
She has spoken to the everyone from the nurses who brought him in to the chaplain at Christchurch Hospital.
A social worker at the hospital spent most of Wednesday looking at unnamed and unidentified victims to see if she could spot him.
None could find any news about whether he was alive.
The 72 hours not knowing whether their son is safe have taken their toll on Mrs Tomlin and her husband, who suffers from Parkinson's Disease.
They desperately want closure, Mrs Tomlin says.
"Anything that happens - it can't be worse than this. The not knowing. The longer it goes on, the worse it gets."
She is holding out hope her son cannot communicate because he has been placed in an induced coma.
"I think that he's in the hospital, but is too sick to make a phone call. He wouldn't have any ID on him so people won't be able to tell who he is," Mrs Tomlin said.
"He's a family guy. He would have always got in touch with mum. He would always tell people who he is and who his family is and to give them a call."
She said the extensive media coverage should cause someone to come forward with information on his whereabouts. She also said it was eerie seeing the image of her son, moaning and groaning in pain.
"I picked up the paper the next day and he was on the front page, and then we were sitting in the lounge and my daughter said, 'Look, he's on television', and it was the BBC news.
"They've all got that image, but we can't find him," she said.
His sister Karen Franicevic said on Campbell Live: "Just the idea that he's in a hospital somewhere by himself. That he doesn't know that we're looking for him. And quite possibly lonely, I don't know. But he's on his own somewhere, after as you can imagine he would have been quite afraid and terrified. And we just want him to know that we want to be with him."
Mrs Franicevic told the Marlborough Express said the family had received conflicting stories of Shane's injuries from his work colleagues who had helped rescue him.
The family had began to prepare themselves for news that he may have died. "We have moments of `Yup he's definitely alive' - but we are preparing for the worst."