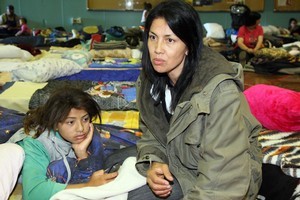 Misery in the form of illness struck earthquake-ravaged Christchurch this afternoon, with the closure of one of the three welfare centres in the city.
The closure comes amid fears of people at the Cowles Stadium centre getting measles and diarrhoea.
Sixty people staying at the centre have gone to Rangiora, 25km north of the city. The other 110 people who stayed at the stadium last night have found lodgings independently, Christchurch City Council said.
The reason for the closure was to protect the health and well-being of people as water and sewerage services at the stadium were not considered reliable.
Authorities have been vocal in their warnings about people cleaning their hands and boiling water before drinking it.
A new welfare centre sprang up today in New Brighton, where liquefaction has made the suburb a mess, to help isolated residents with essential supplies and support.
The Seaview Road shelter was set up by pastor Sam Harvey with the help of police and donations from supermarkets.
An Australian field hospital with 75 beds is now operating in the city.
But the mood in the central city was grim, with the weather cold late today and some rain falling.
Earthquake Recovery Minister Gerry Brownlee, revealing the cost of rebuilding the city would be more than $10 billion, said the state of emergency was likely to stay in place for some weeks.
"I guess the immediate challenge for a lot of people beyond the lack of accommodation, beyond the lack of facilities they need will be the fact that the city will be in mourning for quite some time as we deal with the deaths of so many of our fellow citizens," he said.
While police said they were still looking for signs of people alive in collapsed buildings in the central city, hopes of finding anyone have dimmed considerably. The last person rescued was Ann Bodkin, from the Pyne Gould building, just after 2.30pm on Wednesday.
The number of bodies in the temporary morgue has risen to 113. More than 200 people are missing, but police say a large number of the 113 dead will be on their missing list, with cross-matching still occurring.