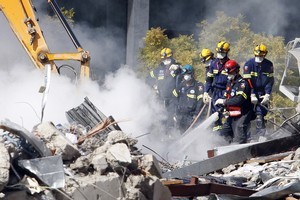 The devastation from Tuesday's earthquake in Christchurch needs to be seen to be comprehended and rescue workers are doing an "outstanding job", Civil Defence Minister John Carter says.
At a media conference in Wellington this morning, Mr Carter said the death toll had risen to 102 overnight with the recovery of five more bodies from the Christchurch CBD. Soon after, Superintendent Russell Gibson told TV3 that another body had been found and the toll had reached 103.
Mr Carter said he understood the last "live rescue" of a survivor since Tuesday's magnitude 6.3 quake had been about 3pm on Wednesday. That was the miracle rescue of Ann Bodkin, who was discovered in the collapsed Pyne Gould building 26 hours after the earthquake struck.
"We are still hopeful there will still be people rescued but it is becoming unlikely," Mr Carter said.
Mr Carter said rescuers would "just continue on with the search until we are satisfied there are no more bodies to recover".
"It is not until you are down in Christchurch that you have an appreciation of the devastation - it is unbelievable."
Rescuers' energies were currently focused on where they know the bodies were, he said.
But Mr Carter said the teams would today begin conducting grid searches of places such as alleyways where they suspected people might have been trapped by falling rubble as they went to and from lunch on Tuesday.
Mr Carter said search and rescue workers in Christchurch were doing an "amazing, outstanding job" and were releasing information as quickly as they could.
"One of things we do need to understand is the teams of people working down there are doing an outstanding job. They are doing everything they can working day in day out.
"These people - a lot of them have their own family and personal issues to deal with.
"They are heroes."
Four officially named
Police Superintendent Dave Cliff last night read the names of four earthquake victims, including two babies: Jayden Harris, 9 months, and Baxtor Gowland, 5 months.
Among the missing are 122 people believed to be inside the Canterbury Television building.Police earlier described the damage to the building as "100 per cent unsurvivable".
Hope for more survivors in the PGC building was extinguished yesterday.
While there had been several successful rescue attempts, chief executive Jeff Greenslade said 10 Perpetual and four Marac staff were left behind.
Emergency teams told him the rescue effort was now a recovery mission.
About 22 people, mainly tourists, still lay unrecovered in the ruins of the Christchurch Cathedral.
The tragedy has had effects far beyond New Zealand - among the missing and dead are international visitors including Chinese, Japanese, Taiwanese, Filipinos and Britons.
Cleaning up the streets
But as rescue efforts moved to the heartbreaking work of recovering bodies in the city, survivors got on with backbreaking work of cleaning up their stricken streets.
John Key flew over suburban Christchurch yesterday and said in pockets the devastation was worse than in the central city.
"While we don't have perfect numbers, it's highly likely that there will be more residential properties that will be uninhabitable than in the [September] earthquake, and that was 3300."
The suburb of Bexley was wallowing in liquefaction from the September earthquake. This time, the damage is worse.
Residents grabbed spades and were again shovelling and scraping the charcoal grey sludge covering their homes, driveways and roads.
Despite the hard work, Donna Jackson was bright and friendly and summed up why locals were smiling through their pain. "Because we're not dead."
THE NUMBERS
103 confirmed fatalities - four names released
228 missing
70 live rescues
10 international teams on the ground
559 rescuers on the ground
594 seen by emergency departments - 164 of those admitted to hospital
2000 people have had treatment for injuries
11 patients in intensive care
452 people in welfare centres
(John Carter said this number was down on the September quake as more people were self-evacuating the city)
20,131 calls to the Government's help-line
Five active welfare centres
- WITH NZHERALD STAFF