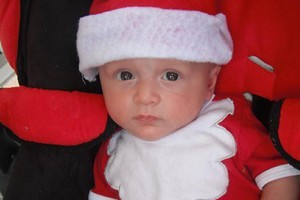 Five-month-old Baxtor Gowland was born two weeks after the first earthquake rocked Christchurch in September.
Yesterday he was named as the youngest confirmed victim of Tuesday's quake.
Last night, tributes to Baxtor and messages of support for his mother, Breanna Gowland, flooded Facebook.
Ms Gowland's friend Charlotte Foote said she was already missing Baxtor and reflected on her favourite memories of him.
"Remember snuggles and giggles at Uncle Pete's birthday, you were so funny.
And just you remember who gave you your first taste of chocolate ganache, yummy! Love you so much precious angel, you be good up there okay."
Another friend said she was brought to tears over the news of Baxtor's death.
The little boy's name was among four released yesterday as the first official deaths of the quake. Police did not release any details of the circumstances of Baxtor's death.
Friends were rallying on Facebook, offering Ms Gowland and her family support in their time of need.
Sarah McKenzie wrote: "Am struggling to comprehend what you are going through ... am here if you need absolutely anything. Sending lots of love and big hugs."
A memorial service for Baxtor will be held at 1pm on Monday in Upper Riccarton.
Baxtor was one of two babies named as victims yesterday. The grandmother of 9-month-old Jayden Harris says his parents are devastated by the death.
The young boy was crushed by a falling TV set at his home in Riccarton. Grandmother Linda Nash told the Herald last night Jayden was "just gorgeous. A smiley wee man".
"He hadn't even started to crawl [mother] Tracey said he wasn't far away, but obviously he didn't get the chance."
She said parents Tracey and Grant had two other young children, though they were no longer together. Mrs Nash received the news in a text message.
"She [Tracey] just texted there's been an accident. Jayden's gone."
Jayden's sisters Stephanie, 3, and Vanessa, 2, were too young to understand what had happened to their baby brother, Mrs Nash said.
Meanwhile, an injured father is fearing for his 5-week-old daughter. In hospital with a badly broken leg, Glenn Pratley has no idea where his girlfriend and newborn baby are.
"I'm hoping that if anyone has seen or heard from either of them, please contact somebody to let me know how they are," he told Campbell Live last night.
Mr Pratley was walking down the street with his sister Rochelle, partner Kelsey Moore, and 5-week-old Tenisha when the earthquake struck.
The siblings were thrown through a shop window together and were knocked unconscious. When they woke up, Ms Moore and Tenisha were gone.