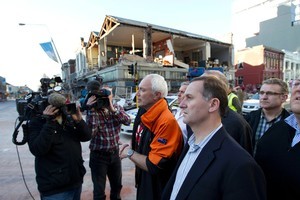 An Australian-style disaster levy to help meet the Christchurch earthquake repair bill remains a possibility as Prime Minister John Key acknowledges the Earthquake Commission is likely to be "cleaned out".
Early estimates of the financial toll of this week's quake have ranged as high as $16 billion. The Earthquake Commission (EQC) has about $6 billion in reserves and $5 billion in reinsurance - or wholesale insurance cover - to meet claims of up to $3.5 billion from last September's tremor and associated aftershocks, and this week's far more damaging earthquake.
Yesterday, Mr Key said the EQC's coffers were "likely to have been cleaned out as a result of the two earthquakes in Christchurch and there are implications for reinsurance, which it would certainly be more expensive for us to purchase".
Meanwhile, in the Australian Parliament yesterday, legislation providing for a temporary A$1.8 billion ($2.4 billion) levy to help pay for repairs after the Queensland flood passed its first hurdle.
Mr Key said a similar levy was a possibility for New Zealand. "The Government always has the right to do that, to put an impost on every New Zealander to help pay the bill."
However, with the focus firmly on rescue and recovery, there had been no discussion about that with Finance Minister Bill English or the Cabinet as a whole.
"My preference would be not to do it but I'm not ruling it out."
A Herald online poll yesterday which drew more than 6000 responses suggested New Zealanders were open to the idea, with 69 per cent saying they would support such a levy and 31 per cent saying they would not.
Greens co-leader Russel Norman said his party had already considered a quake levy.
The party's initial analysis showed a 1 per cent levy for wage-earners in the $48,000-to-$70,000 band and 2 per cent for those above $70,000, with taxpayers in Canterbury exempt, would raise more than $900 million a year.
"You could set it up either for one year or two depending how long you need it," Dr Norman said.
Ratings agency Standard & Poor's last night said its AAA rating on the EQC remained unchanged.
A spokesman said S&P believed the commission had sufficient reserves and reinsurance to pay out $8.1 billion in claims before it was forced to call on additional Government support.
AUSSIE FLOOD LEVY
* A temporary tax to help meet the federal Government's A$5.6b repair bill for the recent floods.
* Is expected to raise A$1.8b.
* Most taxpayers would pay between A$1 and A$5 a week for the next 12 months.
* Low-income earners and flood victims would be exempt