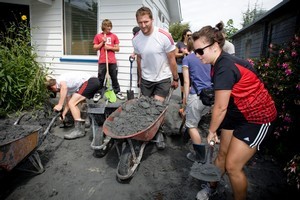 Football fan Tony Marsh was wondering how he was going to clear the 60cm of silt from his Shirley property when a couple of All Blacks asked if they could give him a hand.
"I saw Todd [Blackadder] across the road and walked over to him and said, 'Oh, you're here, my house is pretty bad,' and the next minute they're marching on to my property with their wheelbarrows and spades saying, 'Shall we start here?'," said Mr Marsh.
"It's humbling, really humbling."
With Blackadder were his Crusaders charges, prop Wyatt Crockett, halfback Andy Ellis and number eight Kieran Read, who lives around the corner from Mr Marsh.
The group had already helped to clear five nearby properties affected by liquefaction, piling up wheelbarrow upon wheelbarrow of silt into enormous mounds on the roadside.
Read, who was copping regular serves from Ellis while talking to the Herald, said their help "was the right thing to do" after the Crusaders withdrew from this weekend's match against the Hurricanes.
The teams have taken two points each from the second-round match.
"This is a bigger thing than footy at the moment, it was the only way to go for us, to be honest," said Read.
"We are just wanting to help out in our community, and are doing whatever we can.
"It's just a few of the boys ... we've just been digging and loading wheelbarrows, heaps of them."
Blackadder said the team was holding up reasonably well despite the death of Crusaders board member Philip McDonald, who is among the confirmed victims of the earthquake that devastated the city on Tuesday.
He agreed with Read that playing a match this weekend would have been "inappropriate".
He said the Crusaders would play next weekend but would continue to help in neighbourhoods for as long as they could.
"People have to look after their families ... this is bigger than a game of rugby," he said.
"The guys' minds wouldn't have been on the job either."
Read, 25, was affected by the quake - he was having lunch at Merivale Mall when it hit.
What followed was one of the more anxious moments in the usually fearless loose forward's life.
He tried unsuccessfully to ring wife Bridget, then what was normally a five-minute trip home turned into a 20-minute adventure over badly damaged roads.
"I tried to get home as quickly as I could but the roads were already flooded," Read said.
"I wasn't immediately sure how big the earthquake was. It was not until I ... saw how much damage there was that I realised there was a lot of danger. I just hoped my family was at home. My wife and baby were there, thankfully, and they were pretty shaken up."
Read's daughter Elle was born soon after he returned from the All Blacks' Grand Slam tour of the United Kingdom and Ireland in November.
"Our backyard was filling up with silt and I was worried about the house, but fortunately it seems to be all right."
Read is staying with relatives in Burnside, which is largely unscathed, until water and power return to their suburb.
Liquefaction has hit the eastern suburbs hard, turning many backyards into a dark grey gloop.
"Half the city, you drive around and it looks like nothing has happened. Then you get to the CBD and the eastern side of the city and it looks like a war zone," Read said. "It's unreal."
Read's 2010 form at No 8 has elevated him into the world's elite players, but rugby has been a long way from his mind.
Hew said cancelling this weekend's Hurricanes game was "an easy decision".
"We had a talk about that on Wednesday among the senior players and the coaches ... We felt it was the right thing to do really.
"I know guys want to be playing because it takes your mind off things ... but it would not have felt right to leave here when so much of our community is in trouble."