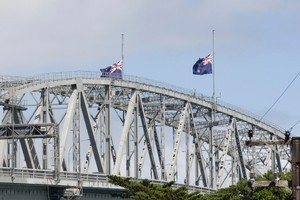 The Auckland Council has given $1.5 million to the Christchurch earthquake relief fund and will postpone major works to free up resources to rebuild the shattered city.
The council voted unanimously yesterday to make the initial donation - equivalent to about $1 for every Aucklander - and committed itself to providing staff, resources and expertise over the next 12 months.
Mayor Len Brown said the extraordinary event required an extraordinary response to "our friends in Christchurch". Aucklanders should follow the council's lead and dig deep.
Councillors endorsed the idea of rejigging the council's work programme, even if it meant delays for Aucklanders, to provide contractors and suppliers for critical projects.
Citizens & Ratepayers co-leader Christine Fletcher said local delays would be infinitesimal compared with the destruction in Christchurch.
Deputy Mayor Penny Hulse said among Christchurch's biggest needs was fixing roads and pipes. Auckland was sucking up a lot of resources in those areas and projects like West Auckland's $40 million twin streams flood protection could go on hold.
Waitemata & Gulf councillor Mike Lee said Auckland would have to share the pain by postponing major projects, although Rugby World Cup projects important to the economy and morale of the country should not be targeted.
Council chief executive Doug McKay said the country's second-biggest city was on its knees, the $16 billion repair bill made it one of the costliest natural disasters and it was imperative Auckland performed.
The Auckland Council, Auckland Transport and Watercare Services have sent more than 100 engineers, building inspectors, emergency response staff and civil defence staff to Christchurch since Tuesday's quake. A further 100 staff are on standby.
Watercare has also sent three filtration units capable of giving 4.3 million litres of water a day, a mobile chlorine-dosing rig which can disinfect 45 million litres a day and an emergency water station which allows people to fill containers from 16 taps.
Councillor Michael Goudie, chairman of the civil defence and emergency management committee, is going to Christchurch for a first-hand look.