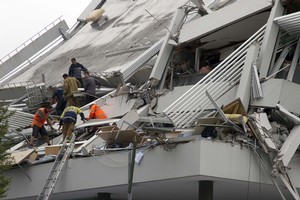 Search and rescue personnel at the Pyne Gould Corporation building in Christchurch have switched their focus from trying to find survivors to recovering the dead, the company says.
Chief Executive Jeff Greenslade said emergency services informed him of the change this morning.
Mr Greenslade said 10 Perpetual and four MARAC staff were believed to still be in the building.
"Our thoughts are with our missing colleagues and their families. We have been praying that those who are trapped will be safely found, and while we haven't given up all hope sadly the prognosis from the emergency services has worsened," he said.
Mr Greenslade said rescue teams had worked "tirelessly" since the quake in trying conditions.
"We have been alongside them hoping for some positive news regarding our friends and colleagues.
This is a tragedy."
He said counselling services had been offered to all PGC staff.
Police earlier said no more survivors had been pulled out of the rubble overnight, with the last person rescued alive at 3pm yesterday.
Search and rescue teams today began moving into the suburbs of Christchurch looking for the dead and injured from Tuesday's 6.3 magnitude earthquake.
Civil Defence Minister John Carter said 72 people had been confirmed dead but there were a number of other bodies yet to be identified. Police experts are using DNA, dental records and fingerprints to formally identify victims.
Speaking to media at the Civil Defence bunker in Wellington this morning, Mr Carter said search and rescue workers had been concentrating in the central city where most of those trapped were believed to be, but that personnel were now entering other areas.
Teams of 70 workers were now going to places where there could be smaller numbers of dead or injured, Mr Carter said.
American and British search and rescue teams were due to arrive tonight, he said.
The numbers
72 dead
300 reported missing
164 patients had been admitted as "seriously injured 80 per cent of the city without reticulated water 40 per cent of the city without power
$16 billion JP Morgan damage estimate
1000 number of rescuers by this weekend
40 police cordons in the city
1464 NZDF personnel directly supporting the operation
431 people had gone through the Emergency Department 20 people are thought to remain in the pancaked PGC building