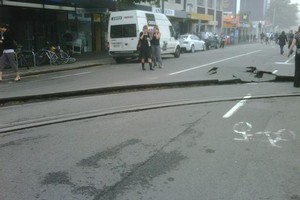 BY THE NUMBERS
* 76 dead
* 238 reported missing
* 164 patients had been admitted as "seriously injured"
* 40 per cent of the city without power
* $16 billion JP Morgan damage estimate
* 1000 number of rescuers by this weekend
* 40 police cordons in the city
* 1464 NZDF personnel directly supporting the operation
* 431 people had gone through the Emergency Department
* 20 people are thought to remain in the pancaked PGC building

WATER SUPPLY
80 per cent of the city is currently without water supply.
You should continue to boil water for drinking.
If it rains, collect as much water as you can for your own use.
The following locations will have water available for collection at the times stated. You need to bring your own container:
St Albans - Cranford/English Park 9am and 2pm
Richmond - Alexandra/Pavitt 11am and 4pm
Hammersley - Quinns Road 9am and 2pm
Banks Avenue - Banks Avenue 11am and 4pm
Marihau - Innes/Mahars 9am and 2pm
Burwood - New Brighton 11am and 4pm
Queenspark - Queenspark Ave 9am and 2pm
Nth New Brighton - Leaver St 11am and 4pm
Waimari - Tilman/Blighs 9am and 2pm
Wharenui - Matipo St 11am and 4pm
West Spreydon - Lyttelton St 9am and 2pm
Somerfield - Somerfield St 11am and 4pm
Cashmere - Hackthorne 9am and 2pm
Beckenham - Norwood 11am and 4pm
St Martins - Albert/Roscoe 9am and 2pm
Woolston - Ferry/Hopkins 11am and 4pm
Mt Pleasant - Hornbrook 9am and 2pm
Sumner - Hardwick/Colenso 11am and 4pm
Bromley - Kawau 9am and 2pm
North Linwood - Woodham 11am and 4pm

The following locations (these are marked in blue on our emergency supplies map) will have bottled water available from 6.00am on 24th February 2011:
Walter Park
Cowles Stadium
Linwood Service Centre
Barrington Park
The Warehouse car park, Blenheim Rd
Northland Mall
Waltham Park
QEII Park
Avonside Golf Course

The following schools (these are marked in blue on our emergency supplies map) have water available for collection. You will need your own container.
Redcliffs
Phillipstown
South New Brighton
Shirley
Wainoni
Lyttelton Main
Information about what's been damaged in the aftermath of the magnitude 6.3 earthquake and where people can get help:

View Christchurch earthquake: Map of the destruction in a larger map