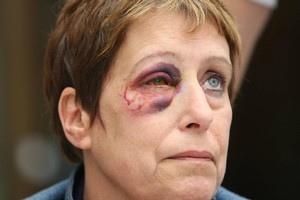 Christchurch hospitals are busy but coping as patient numbers swell from the earthquake.
Hospital staff have dealt with hundreds of hurt people, mostly with crush injuries, cuts and fractures.
The Canterbury District Health Board is trying to lessen the load on hospitals and has arranged for GP visits to be free until tonight.
A spokeswoman for the DHB said the city's hospitals were busy but coping very well.
She confirmed the number of cardiac patients had risen but could not give numbers.
The spokeswoman said staff were working extra hours but the health board was looking at the quake as a long-term problem and was rostering staff off.
"A lot can't come to work because they have issues at home," she said.
Schools are closed so health workers are looking after children and having to secure their own damaged homes.
An orderly at Christchurch Hospital told the Herald of dramatic scenes as wave after wave of injured people arrived seeking treatment.
Michelle said many of the patients were forced to stand outside while the hospital building was checked.
"I turned around and looked back and saw a row of bleeding people to the side ... and then more people on the other side. I wondered what country I was in."
Some patients didn't even arrive by ambulance. Strangers picked the injured up off the street and raced towards the hospital, frantically sounding the horn to get the attention of medical staff.
A helicopter dodged power lines to land on the road outside the hospital and deliver seriously injured patients, she said, which added to the feeling of being in a war zone.
Michelle said there had been "a lot of heart attacks", showing as it did after September's 7.1 magnitude earthquake that people were facing high levels of strain and were deeply traumatised.
One of the many patients at the hospital yesterday was Fran Keina. She made it through the quake unscathed but an aftershock knocked her off her feet.
She had no memory of what happened but partner Bryce Lyons said the force of the quake had thrown her onto a table, injuring her face.
Much of her face was numb, but Ms Keina winced painfully as she braced herself during yet another aftershock.
Despite being battered, bruised and homeless she knew how lucky she was. "There are people out there who aren't nearly as fortunate."
Ms Keina and Mr Lyons said they were staying at a motel because their apartment was "unliveable" after the shake.
Mr Lyons said running was the best way to get around the city, with so many roads closed and traffic jams on many roads.