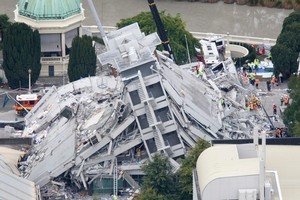 CANBERRA - At least one Australian "family man" is among the Christchurch earthquake dead and the Australian government has warned the public to brace for more bad news.
Prime Minister Julia Gillard said the New Zealand-born long-term Australian resident died in the collapsed Pyne Gould Guinness building.
"It appears this person was a family man and our condolences go to his family who would be struggling with this news," Ms Gillard said.
The unidentified man survived the initial collapse and was helped by a passerby who made phone calls to his family on his behalf.
"But he did not survive long enough to be brought out of the rubble," Ms Gillard said.
Almost 2400 Australians were believed to be in Christchurch when the quake struck.
Officials have confirmed the safety of 937 Australians but were still seeking to confirm the safety of a further 1352.
Foreign Minister Kevin Rudd said the government had particular concerns for three Australians known to be in the downtown area at the time of the earthquake.
"As of today they have not yet been located," he told parliament.
The Department of Foreign Affairs and Trade warned of the possibility of more bad news.
"Sadly, we need to prepare for the possibility of further Australian fatalities," a DFAT spokesperson said.
The overall death toll stood at 75 on Wednesday and about 300 people have been reported missing.
Ms Gillard said the government would give $5 million ($6.7 million) to a Red Cross relief appeal.
Opposition Leader Tony Abbott said the coalition stood shoulder to shoulder with the government on its response.
"Whatever New Zealand asks Australia will give. Whatever the government does the coalition will back," Mr Abbott said.
Australian consular officials from Wellington, Auckland and Canberra began to arrive in the devastated city on Wednesday.
About 300 Australian Federal Police, NSW Police and Victorian Police were likely to deploy to Christchurch on Friday, DFAT said.
Australia has also deployed 70 Urban Search and Rescue personnel from NSW and 70 from Queensland.
An Australian Medical Assistance Team was also expected to deploy 25 people to Christchurch on Wednesday.
Four Centrelink social workers are also being deployed.
A Brisbane man was on the second floor of a five-floor building when the quake struck, sending books and furniture flying around his office.
"I thought the floors on top of us are going to collapse in," the man identified only as Tim told ABC Radio.
"It's just this blinding intensity that hits you. It's just this fear, it's almost like claustrophobia I suppose.
"I just prepared myself to be buried. By miracle, there's no logic to it, luckily our building doesn't collapse."
The DFAT consular emergency centre has taken almost 7000 calls. An Australian crisis centre has been set up at the Copthorne Hotel.
- AAP