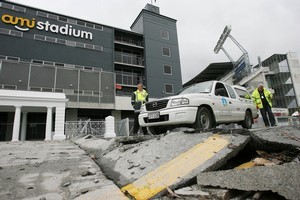 The Crusaders early this morning withdrew from their Super 15 match against the Hurricanes in Wellington on Saturday. The match will be declared a draw and both teams will get two points each.
"After all that has happened here in Christchurch and with so many lives affected by this event we have decided it would not be appropriate to play a game of rugby," said Crusaders chief executive Hamish Riach.
"All of the Crusaders players, team management, staff and board members have been directly affected by this terrible tragedy and it is our desire to stay here and support our families and community."
Sanzar rugby nations New Zealand, South Africa and Australia said they all stood behind the Crusaders' decision.
The decision to withdraw was made at a meeting of senior Crusaders players and officials last night and the announcement came just after 1am today.
Engineers are compiling a report on the damaged AMI Stadium that could deal a hammer blow to Christchurch's hopes of hosting seven World Cup games, including two quarter-finals, later this year.
Already, Eden Park bosses have offered their stadium as an alternative for the Waratahs match in a fortnight.
"No one has asked us and we are not touting for business, but if we can help we would do everything we can," Eden Park Trust Board chief executive David Kennedy said. "If they needed us to help we would stage the match and do it at cost. I'm sure Aucklanders would get right behind a game like that."
Mr Kennedy saw few problems hosting the Waratahs match next weekend, but the game against the Brumbies on March 11 could be more complicated, with the Warriors hosting Parramatta in an NRL match at Eden Park the next day.
Last night, RWC 2011 boss Martin Snedden moved to quell rumours matches would be moved offshore in the event Christchurch's infrastructure was too damaged to play World Cup host.
"There has been speculation that this tragedy puts the entire event in jeopardy or that matches will relocate to Australia. That is not the case," Snedden said. "Rest assured, RWC 2011 will proceed and all matches will take place in New Zealand."
Prime Minister John Key said he would like to see Christchurch take up its role as World Cup host, saying it would be a clear signal the city was "back up on its feet". But AMI Stadium's ability to host matches in the near future remains in doubt. Roads outside the ground were badly buckled. Those undulations and extensive liquefaction are visible inside the stadium.
Bryan Pearson, chief executive of Vbase, the company that administers the ground, was reluctant to speculate on damage ahead of the engineers' report.
"I've not been to the ground, but I'm aware of the condition of it and what's taking place there," he said. "Once we have the engineering assessment there are other assessments that will need to take place."
Sanzar and Crusaders officials were hoping for the best while fearing the worst, with respective chief executives Greg Peters and Hamish Riach saying contingency planning was in the back of their minds, though thoughts were focused on the safety of the people of Christchurch.
"Once we get through that we start thinking about what happens the week after," said Riach in reference to the Crusaders' opening home match of the season against the Waratahs.
Yesterday, Sonny Bill Williams told a Sydney newspaper he was at a local pool when the earthquake struck.
"There was a kids' swimming class at the pool and my mate started yelling 'the kids, the kids'. When I looked down there was waves in the pool and you couldn't see the kids."