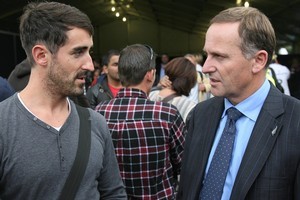 An ashen-faced Prime Minister yesterday saw for himself the grim situation confronting survivors of the Christchurch earthquake.
Mr Key visited a welfare centre at Hagley Park yesterday afternoon where dozens of the city's newly homeless had sought shelter.
Many of those with nowhere to go were tourists whose motels and hotels were left uninhabitable by the quake.
Mattresses and sleeping bags were laid out across the building. People lay silently on them, trying to get some rest for the first time since disaster struck.
Volunteers comforted the elderly at the centre, some of whom were alone and without their medication because it isn't safe for them to return home.
Lei Wulff and friend Greg Kaczyncki were among those who were trying desperately to leave Christchurch.
Miss Wulff wants to get to Timaru and will stay there until "everything settles down", while Mr Kaczyncki is heading for Wellington.
The pair piled their belongings into a shopping trolley as they walked dozens of kilometres across the city to shelter.
"We had to get our gear out and [the trolley] makes things a bit easier. It was a bit of a struggle," said Miss Wulff.
Sarah Davies and Sue Powell had an emotional reunion at the welfare centre after losing track of each other when the earthquake hit. Australian Ms Powell was visiting for a medical conference and was at the conference centre when the shaking started.
"I was on the phone to her and we both started screaming." They lost track of each other in the ensuing confusion.
But a group of Canterbury University students took Ms Powell and her colleagues in overnight on Tuesday.
"They took in a few stray nurses. It was amazing - better countrymen you couldn't ask for," she said.
The Hagley Park welfare centre was closed last night and those left bussed to other centres at Burnside High, Cowles Stadium and Pioneer Stadium.
Social Development Minister Paula Bennett said with rain forecast over the next few days it was decided to move everyone to more suitable buildings.