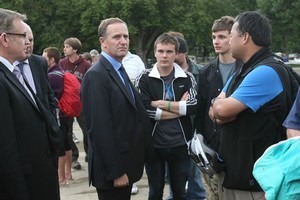 The national state of emergency declared yesterday by the Government gives it "sweeping powers" to deal with Tuesday's quake and is only the second time the measure has been invoked.
It moves overall responsibility for rescue and recovery efforts from local Civil Defence authorities to national Civil Defence director John Hamilton.
"The national agency now takes control of the response," said the national operations manager for Civil Defence, David Coetzee.
Mr Hamilton and a small team of national managers moved to Christchurch yesterday afternoon.
"The idea is not at all about taking over," said Mr Coetzee. "It's Government demonstrating its intent of working better and closer with the local response.
"You can expect a national action plan to be developed led by the director of Civil Defence and under that we will have our local plans dovetailing with the national plan."
Civil Defence Minister John Carter said the declaration "allows us to take whatever steps we need to ensure people's safety and to make sure we give them all the support we can. It allows us sweeping powers in that regard".
Declaring a national state of emergency is an option when a disaster or other event is or is likely to be of such severity that it's beyond the resources of local Civil Defence groups.
The first such declaration was in 1951, during the waterfront dispute. Yesterday's order was the first since the Civil Defence Emergency Act was passed in 2002. It provides for Mr Hamilton to marshall national resources for emergency functions and tasks such as:
* Rescues.
* Evacuations from dangerous areas, closing off buildings, homes and other premises, public places and roads.
* Setting up first aid posts.
* Providing relief such as emergency food, clothing and shelter.
* Regulating road, air and sea traffic.
* Emergency disposal of bodies.
It also allows authorities to requisition any land, building, vehicle, animal, boat, equipment, construction materials, bedding, food and medical supplies considered necessary for the preservation of human life.