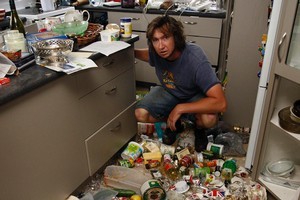 Sam Struthers has just won a fight with cancer but the Lyttelton man says that victory was nothing compared with surviving this week's earthquake.
The 34-year-old was in the kitchen when the 6.3 tremor - the epicentre of which was just a block away from his home - began on Tuesday afternoon.
"I just thought it was shaking like the aftershocks we get," he told the Herald.
But as the intensity built and items began to fly from the shelves Mr Struthers realised it was more than just an aftershock. It was also far more powerful than the first earthquake in September.
"I couldn't even make it to get outside ... so I just tried to stay standing. The microwave just missed me," he said.
Despite windows shattering, parts of the plaster ceiling coming down and almost everything in the kitchen being thrown to the ground, Mr Struthers wasn't injured.
"The fact that I didn't get hit by anything is an absolute miracle.
"I had angels looking after me."
He ran outside to find his car buried under the crumbled walls of the Holy Trinity Anglican Church next door, where his father is vicar.
He met a "hysterical" woman who was running out of the church after narrowly escaping falling walls.
"This lady was playing the piano when it happened and a wall fell on her. She came racing out and I just put my arms around her and we went and sat on the ground.
"I can't believe the wall of the church fell and [she] didn't get hurt."
Mr Struthers, a former nurse who spent the rest of his day helping the wounded, said it was hard to believe he had survived the quake.
"I have just recovered from cancer and getting cured was surreal but this just tops the cake."
Mr Struthers' mother Robyn was in Christchurch and his father Neil was driving into the Lyttelton tunnel when the quake struck. Neither was hurt and both made their way home to find the badly damaged church.
Their historic 1880s home, which they recently spent $200,000 on restoring, appeared unscathed from outside. Inside, however, there is significant structural damage - windows are smashed, parts of the ceiling have come down and almost every item has been thrown to the ground.
Almost all of the couple's antique china collection lies smashed on the ground, as do many other valuables.
While the couple are devastated, they are also realistic.
"We are most grateful we have got our family," said Mrs Struthers. "These things are only material, some poor families have lost their relatives."
The Rev Neil Struthers' voice breaks and tears gather in his eyes while describing the damage to his church but he says the message for the people of Lyttelton is to remain positive.
"We will rise again and we will enjoy our beautiful town, our beautiful city and our beautiful province - it's only bricks and mortar."