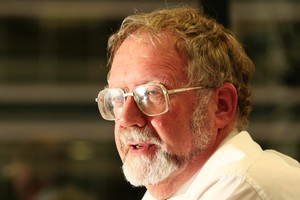 Collins Children's Commissioner John Angus has warned the Government against adopting some of the Welfare Working Group's "hardline" proposals for sole parents.
Dr Angus, who is due to retire shortly, welcomed some of the working group's ideas, such as more support for childcare and a transition payment to help mothers get into work.
But he said some suggestions could put the wellbeing of children at risk and the Government should take "a cautious approach".
"The Welfare Working Group makes some suggestions about taking a hard line with parents on benefits who don't care for their children well.
"There are some complications in this, including treating people differently on the basis of their source of income. I am also not sure that income management will solve issues of truancy. Going further to cut benefits could make things worse for children.
Dr Angus said the Government should think carefully before adopting a proposal to require sole parents who have another child while on a benefit to take up paid work when their new child is 14 weeks old.
"It would be in the best interests of that child if the parent was supported to look after that baby well while at home, instead of searching for work at such an important time in the child's life," the commissioner said.
"Government policies need to support parents of very young infants to spend longer than 14 weeks at home with their child, regardless of whether they are on a benefit or not."
Beneficiary Advocacy Federation spokeswoman Kay Brereton said the working group did not seem to place any value on parenting.
"Parenting is not considered to be work and it's not really considered to have any value. Once your kid is 3 it can go off and stand on its own," she said. "This is not what our welfare system was designed to be about."
Child Poverty Action spokesman Mike O'Brien said the proposals to work-test sole parents "will only add to New Zealand's already high child poverty rates".
But former Act candidate Lindsay Mitchell, who has campaigned for a one-year limit on the domestic purposes benefit for most sole parents, said making them work when their youngest children turned 3 was "not particularly radical".
"American states generally require work participation when the youngest child is 1, or even younger in some states."