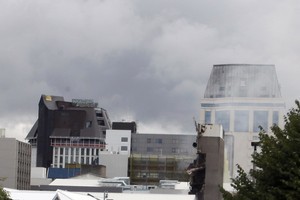 Fifteen Canterbury TV (CTV) staff are believed to have died when their central Christchurch building collapsed after yesterday's magnitude 6.3 quake, CTV chairman Nick Smith says.
Police were "100 per cent sure" there were no survivors in the earthquake-damaged CTV building, today calling off the search for bodies there, shifting their efforts to sites where it was believed people were trapped alive.
More than 80 people were believed to be in still in the building, which housed the regional television station, a nursing school and a language school.
CTV chairman Nick Smith told NZPA the television channel had 24-25 fulltime staff.
"We're working on the assumption that everyone we haven't managed to contact was in the building, and that would number probably 15," he said.
"We haven't had anything confirmed, we haven't been given any names, we're just going off our own tally."
Mr Smith, business manager and director of Allied Press of Dunedin, which owns the Otago Daily Times, said he had travelled to Christchurch today to support staff.
"We're just having a staff get-together with those who have survived. That's the most important thing at the moment," he said.
"(They've) lost a lot of friends, a lot of colleagues, a lot of talent and a lot of life-long relationships...
"They're not happy. It's very sorrowful."
Many of the staff there were in the building when the quake struck and broke down when they told him what had happened. What staff had described to him was "like out of a horror movie", Mr Smith said.
"It's just too horrific to think that they got out and...people who were a few yards behind didn't. They didn't know which way to run."
Mr Smith's brother, Allied Press of Dunedin chairman and managing director Julian Smith, said the building had withstood the first quake well.
"So it seems strange that this whole building should fall down like that," he told NZPA.
"Our sympathy goes out to all staff - everybody in Christchurch, for that matter but particularly for the staff of CTV and their families."
Other CTV victims include Japanese students, police staff
Earlier today, Inspector Dave Lawry said he was "100 per cent" certain those trapped in the CTV building, including a non-sworn police staff member and a group of overseas students, were dead.
He felt particularly sorry for the family of what is believed to be a group of Japanese students who died inside.
"At a certain point I'm not going to risk my staff for people where I believe there is no chance of survivability."
Fires burned in the CTV building overnight and no signs of life have been detected there by cameras or listening devices.
Christchurch area commander Dave Cliff said the loss of a staff member in the building was painful.
It meant police could relate to the loss and desperation being suffered by family with loved ones still trapped, he said.
Nancy Wu, whose husband Paul Wu is among the missing in the CTV building, said news that search and rescue workers were putting efforts at the site on hold was "devastating".
"But hopefully they will return and not give up because people can still be alive for many hours. We are not giving up hope."
- with Jarrod Booker, NZ Herald staff