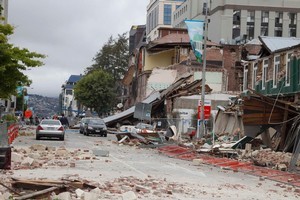 New Zealanders are opening their hearts and homes to those fleeing Christchurch's devastating earthquake.
About 1000 phone calls and emails had poured in to a temporary phone line and email address set up to deal with inquiries from Wellingtonians wanting to offer free accommodation to the hundreds of people arriving in the capital today from Christchurch.
"We want to say a huge thank-you to all the people around the lower half of the North Island who've shown such generosity," Wellington Region Civil Defence emergency management group spokesman Mike Mendonca said.
"We've had offers from people all the way to Ohakune, people wanting to turn over their beach houses for a week...it's been amazing.
"It's obvious that people all over the country are united in their desire to help out in whatever way possible."
Several hundred people, mostly tourists, had flown into Wellington on an air force plane and many had left Christchurch without passports and medical supplies.
They had been helped as they arrived at Wellington Airport.
And at least one Wellington school is opening its doors to quake-affected Cantabrians.
St Benedict's School in suburban Khandallah is arranging billets and schooling for children and families in need following yesterday's 6.3 magnitude quake, which has claimed at least 75 lives, left hundreds injured and thousands homeless.
"In some cases the parents will need their children minded for a few days or weeks while they deal with the problems they are facing," principal Rosemarie Ellis said.
"In other cases, whole families may need to leave Christchurch for a while and their children attend a different school."
Mrs Ellis had contacted several Catholic schools with the offer, as well as former school families who had moved to Christchurch.
"We're just responding as a school community," she told NZPA.
The school had also organised a mufti day for Friday, with all donations going to the quake appeal.
A website, quakemap.net, has also been set up to help find quake refugees accommodation.
There is also a Facebook page set up for the same purpose.
Ohariu MP Peter Dunne invited Wellingtonians wanting to offer a room to quake-shaken Cantabrians to lodge their details with his electorate offices.
"Right now the people of Christchurch are in the full emergency phase with rescue and recovery, but very soon they will be drawing breath and a lot of them are just completely shattered," Mr Dunne said.
"They have been through six months of hell and everyone is feeling for them and wants to help.
"One very simple way people can do so will be to open their homes, their doors and their hearts and offer people from Christchurch some respite, some support and some care."
People could contact his Maungaraki office (04 560 4773 or oharium.mp@parliament.govt.nz) or his Johnsonville office (04 478 0076 or ohariu.mp@parliament.govt.nz).
The Pipitea Marae in Thorndon and Te Raukura, the new wharewaka on the Wellington waterfront, have also been opened up to accommodate people (mainly tourists as this stage) who are leaving Christchurch to escape the aftermath of yesterday's earthquake.
Wellington Maori leader, Professor Sir Ngatata Love, said the trustees of the Port Nicholson Block Settlement Trust, Pipitea Marae Charitable Trust and Te Raukura had no hesitation in offering whatever support they could to the national emergency evacuation plan.
Nelson is also stepping up, with Mayor Aldo Miccio saying many residents had offered beds, office space and donations to those affected.
Mr Miccio said scores of people had already arrived in the city to stay with people they knew.
Nelson people who could help should contact the Nelson City Council on (03) 546 0200 to register.
- NZPA