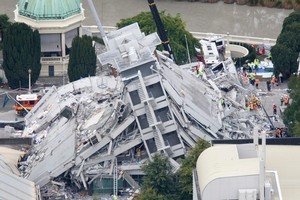 At least 14 people are missing from two companies in the Pyne Gould building in Christchurch tonight.
Jeff Greenslade, chief executive of Pyne Gould Corporation, this evening told media that number was down from 24 yesterday.
The company still held out hope of finding survivors.
"The good news is today we only have 14 unaccounted for - 10 staff from Perpetual and four from Marac," he said.
"That has been a combination of finding people who may have gone home at lunchtime when the quake hit and others that have been taken out of the building overnight and a couple more this morning.
"Two people came out of the building this morning and eight came out overnight."
Patrick Middleton, spokesperson for Perpetual which also has offices in the building, spoke of his company's losses.
He said 10 out of a team of 49 were still missing.
"We also know nine are injured," said Mr Middleton.
"Some of the (missing)14 we know with a high level of certainty were in the building.
"There are a small number that we have had no contact from and we can't verify whether they were in the building or not, but we are assuming they were."
Mr Greenslade said the injuries of the nine hurt related to crushing and lacerations and he was aware of one individual who was operated on.

Miracle rescue a ray of hope
This afternoon a woman who was trapped but uninjured in a narrow, cramped space in the pancaked PGG building for just over 25 hours was rescued.
Ann Bodkin was carried out on a fire truck ladder.
Her husband Graham Richardson spoke to the Herald about the amazing rescue.
When asked if he held any hope that Ann was alive overnight, he said: "You always hope.
I had lots of people around me helping and praying that she'd be fine."
He said the rescuers were "just unbelievable".
"Seeing those guys in the building with an aftershock going on is just scary as.
"It takes so long to get someone out. It's just amazing.
"I can't believe the job they've done. Getting her out is just stupendous. I'm a very happy man. I obviously feel for all the other people waiting to hear."
Mr Richardson said when Ann came out, she couldn't even turn to look at him because of her neck brace and she just giggled.
He said he couldn't describe the feeling when he was told that she was still alive inside the building.
"I was told to get myself down here because she was asking for me. I didn't break any speed limits but I got here pretty quickly."
Christchurch mayor Bob Parker also witnessed the rescue. "When she came out, she said to her husband, Graham: "I didn't know if I was going to see you again, but I was determined to see you again."
Graham was in "an incredibly emotional state," said Mr Parker.
"That moment of connection and relief was just palpable."
Ann Bodkin was immediately taken away for a medical check-up after being rescued.
"She was complaining of being a bit sore because she was on one side for a long time," said Mr Parker
"In the midst of what has been by and large one of the bleakest days in the story of our city, the sun came out at the same moment as they removed Ann from that building.
"They got Ann out of the building and God turned on the lights.
"They got a blanket in underneath her and there was painstaking work to cut back the concrete and the steel. They moved her out very gently to the end of the ladder and it was extraordinarily emotional.
"The rescuers then put a pair of sunglasses on her because she'd been in the dark for so long.
"Ann is one of the miracles of the day. When you feel something like that it's a moment of hope and optimism."
Grant Lord, the officer in charge of the rescue site at the PGG building, earlier said the team was trying to access to Ann from underneath where she was, but if that didn't work they were going to go through the top of the building.
He said the woman did not appear to be injured and was actually "very chirpy" and in good health. The woman had taken cover under a chair or a desk when the earthquake had struck.
Ann was the fourth survivor to be pulled from the PGG building today.
CTV search abandoned
Earlier police abandoned all hope of finding survivors at the collapsed Canterbury TV building, choosing to focus their efforts on Pyne Gould.
Inspector Dave Lawry said he was "100 per cent" certain those trapped in CTV, including a non-sworn police staff member and a group of overseas students, were dead.
All emergency personnel were moved away from the building because of danger the unstable Grand Chancellor Hotel would collapse onto it, he said.
He felt particularly sorry for the family of what is believed to be a group of Japanese students who died inside.
"At a certain point I'm not going to risk my staff for people where I believe there is no chance of survivability."
Fires burned in the CTV building overnight and no signs of life have been detected there by cameras or listening devices.
Christchurch area commander Dave Cliff said the loss of a staff member in the building was painful.
It meant police could relate to the loss and desperation being suffered by family with loved ones still trapped, he said.
Nancy Wu, whose husband Paul Wu is among the missing in the CTV building, said news that search and rescue workers were putting efforts at the site on hold was "devastating".
"But hopefully they will return and not give up because people can still be alive for many hours. We are not giving up hope."