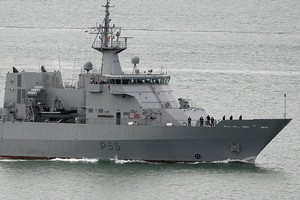 The distress beacon on a yacht in trouble in atrocious conditions in Antarctica has stopped working and New Zealand rescue authorities have called in another ship to join the search.
The 14.3 metre steel yacht Berserk, with three crew, activated its beacon about 5pm yesterday from the Ross Sea, near Scott Base in Antarctica.
The beacon stopped working overnight but Ross Henderson of the National Rescue Co-ordination Centre in Wellington said it was not known what had caused it to stop.
"It is very difficult conditions. It is an inhospitable environment to be in without adding atrocious conditions to the mix."
The rescue centre ordered the navy's offshore patrol ship HMNZS Wellington into the search zone but found no trace of the missing yacht. Wellington was in the area on sea trials.
Wellington was released from the search because of the deteriorating conditions but two more ships, the Sea Shepherd ship Steve Irwin, and the Russian ship Professor Kromov, were asked to join the search.
Mr Henderson said the yacht originally had five crew on board but it was thought two were dropped off at Antarctica to attempt a trip to the South Pole.
The Norwegian registered yacht Berserk was classed on its website as an adventure sailing charter vessel which "roams the seven seas doing long-term navigation around the world."
The site said Berserk was "no luxury yacht with high-tech electronics and luxurious equipment but it is fully equipped for comfortable sailing in extreme environments".
It was not known who was on board but the captain was Norwegian "professional adventurer" Jarie Andhoey, 34.
Conditions were atrocious, said Mr Henderson with six- to eight-metre swells and winds up to 110km/h. The conditions prevented the use of an aircraft.
- NZPA