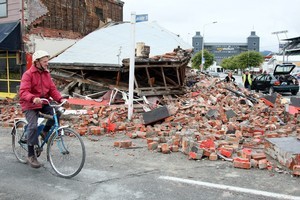 Six people have today been arrested for theft and burglary in the quake-hit Christchurch CBD.
Superintendent Dave Cliff said the area within the four avenues area of the central city will be restricted from 6.30pm tonight for safety and security reasons.
"We have made six arrests for theft and burglary in the CBD today," he said.
Two more welfare centres have opened in quake-hit Christchurch, with a third to open tonight.
The welfare centre at Hagley Park was now full and people needing assistance should head to the new welfare centres instead, Social Development Minister Paula Bennett said this afternoon.
The extra welfare centres at Cowles Stadium, Aranui, and Burnside High School were already open, while another at Pioneer Stadium, Spreydon, would be open by 6pm.
"The welfare centres are vital for displaced people who are in need of assistance, as a place to find company, food, water and refuge," Ms Bennett said.
Some people had gone to Addington racecourse, where a welfare centre was set up after last year's quake, but Ms Bennett said it was not being used after this quake because buildings were unsafe.
She said the challenge in setting up welfare centres was to make sure buildings were safe.
"We are going to make sure there's electricity, there's clean water and there's toileting."
The centres were for people without a home to go to, she said.
"Last time we had a lot of people that were just really unnerved that went to the centres, and I understand that completely.
"If you feeling that unsafe and that unnerved please do go, but if you can reach out to a neighbour and get that level of emotional support for the next day or two that would be pretty helpful so we can deal with the most extreme."
Christchurch deputy mayor Ngaire Button said officials had hoped they would have known more about the situation today.
"The situation in Christchurch is really serious. Our hearts go out to the families waiting."
Ms Button again stressed people should stay out of the central city as they are impeding rescue efforts.
"Please stay home, if you don't have to be out don't go out," she said.
"We don't want to have to step up authority - we want our army and police on recovery not have to tell people to stay out."
Wastewater remains an issue for the city, particularly in Bromley, Ms Button said.
"We don't want anyone flushing their toilets."
She said the wastewater system is a worse shape than after the September 4 quake, and it will be "longer than a few days" before the system is fixed.

A Government helpline has so far taken about 6000 calls, relating mostly to locating loved ones, donation offers, and accommodation enquiries.
"An event on this scale can test even the most resilient Cantabrians and we say don't tough it out alone, people are there to help," Ms Bennett said.
Trauma counselling services and victim support were being mobilised, with between 80 and 100 people from around the country being called upon to help those affected by the quake.
Ms Bennett said Relationship Services in Christchurch was badly affected but its phone counselling service was operational.
The Salvation Army has deployed teams from across New Zealand to work out of welfare centres and its own support centres.
People in desperate need could also get financial assistance. Many money machines in the city were not working so Work and Income centres in Ashburton, Hornby and Rangiora would be able to look at cash payouts.
However, Ms Bennett said it was important not to clog the streets and financial help may be able to be provided via the Government helpline, 0800 779997.
Senior managers had the discretion to make decisions about approving payments based on individual circumstances.
"Today is the day to be stepping in and doing what we have to do."
Officials were looking at criteria from last time and how payments were issued and what was needed.
"We will probably be rolling out a similar criteria."
There was also help available via Civil Defence payments.
"If people are in extreme need right now, make that call... you do not have to be a beneficiary to get that."
A group was working on ensuring beneficiaries had access to shelter, food and water and officials were contacting elderly, disabled and other vulnerable people to see if they were OK.
"We have already started making some outbound calling."
Prison cleared for rescuers
Christchurch's Rolleston prison will be cleared to create beds for the influx of rescuers into the city following yesterday's 6.3 magnitude earthquake.
Corrections Minister Judith Collins said the prisoners would be moved to the higher security Christchurch Mens' prison, emptying 320 beds for rescuers. The rescue teams now include 200 police from Australia on top of their specialist search and rescue team.
In a further bid to make room in the city the Air Force was today ferrying tourists and out-of-towners from Christchurch to Wellington and Auckland to clear hotel rooms and other accommodation for rescuers.
The rescue teams were being flown to Christchurch on the return leg. Hundreds of people were expected to use the flights today.
Civil Defence National Controller David Coetzee said as well as rescue teams, council workers including building inspectors and sewage workers were now being drafted to Christchurch to help assess buildings and restore basic services.
Civil Defence said welfare centres had been busy overnight, as had hospitals and medical facilities.
About 950 people spent the night at two welfare centres, at Hagley Park and Burnside High School, where blankets, food, sanitation were supplied.
Social Development Minister Paula Bennett said more welfare centres would be opened once buildings were declare safe to use.
"The advice is to stay at home if people can and to check on their neighbours and if they need any help or advice, call the Government helpline," she said.
The 0800 779997 helpline will operate 24 hours, providing information, advice and transferring calls through to other appropriate agencies.
"Financial assistance will also be made available to those who need it, we have the ability to provide Civil Defence emergency payments and other assistance is available," Ms Bennett said.
Telecommunications were patchy and many residents did not have drinking water.
Roger Sutton, CEO of Orion Power, said half the city was still without power but he hoped that by the end of today that 70-80 percent of the city would be back online.
More than 40 police cordons remain in place around the city.
Three hundred Australian police officers are being sent to help out with the rescues.
About 80 percent of the city remains without water.
Power had been restored to over 60 percent of Christchurch but progress was slow, lines company Orion said this afternoon.
The company said parts of Lyttelton had power again but Christchurch's eastern suburbs were more problematic due to network and road damage.
Mr Key said the state of emergency "enables the strongest possible focus of local, national and international resources working together to achieve the best possible response in the shortest time".
He reassured Cantabrians that all possible resources would be put towards the relief effort.
About 200 defence personnel are helping with rescue efforts.
Christchurch City Council said damage from the earthquake meant there would not be enough water to meet demand in Christchurch in the coming days.
Water supply was not functioning on the eastern side of the city, but the council has set up tanks at a number of primary schools where people can collect water.
The council also reported the sewage treatment station at suburban Bromley out of service with raw sewage entering the estuary.
Food and additional blankets and supplies had been requisitioned under emergency powers with the assistance of some major companies in Christchurch so it could be transported to emergency temporary accommodation centres.
Up to 40 Christchurch Hospital patients were transferred to other hospitals overnight, and a further 40 were being transferred today to make room for injured quake victims.
The hospital's emergency department provided care for 220 major trauma patients overnight, and remained busy this morning, Canterbury District Health Board (CDHB) chief executive David Meates said.
"The emergency department has been steady this morning and seeing fewer patients, but with more serious injuries as people are freed from piles of rubble and buildings in the city," Mr Meates says.
Most people were admitted with lacerations, head injuries and broken bones after being hit by falling bricks and crushed under masonry.
Police asked people desperate to find loved ones to go to the family liaison centre at Papanui police station to register their concerns, rather than going to work sites and damaged buildings.
- NZHERALD STAFF, NZPA, NEWSTALK ZB